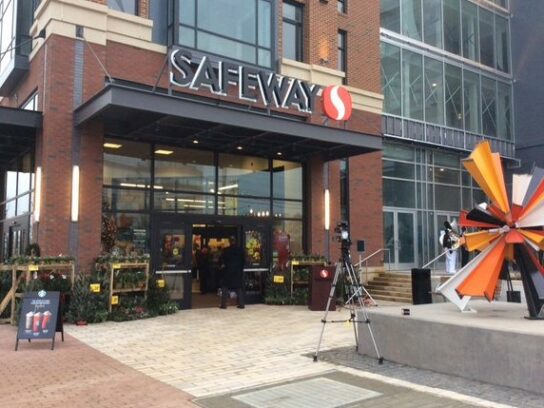 At 2 a.m. Thursday morning, Safeway union members reached a tentative agreement with the company for a new contract, according to Jonathan Williams, communications director for UFCW Local 400, the union representing Safeway employees. 
The union will go over Safeway's offer at a 1 p.m. meeting Thursday at the Gaylord National Resort and Conference Center at the National Harbor. A statement from UFCW Local 400 recommends that members vote in favor of the contract. A majority vote is needed and if approved, no strike will occur. 
In the statement, union President Mark Federici said, "These negotiations were long and unusually complex due to the difficult pension issues we needed to resolve, but I am pleased to say we were able to reach a tentative agreement with Safeway that preserves retirement security for our members. This would not have been possible without a united union membership willing to take a stand for the fair contract they have earned. I couldn't be more proud of our members at Safeway and I look forward to presenting the details of the proposal at our membership meeting later today."
#BREAKING: Hours before our planned strike vote today, and after six months of negotiations, we reached a tentative agreement with @Safeway at 2:00 a.m. this morning to avert a strike.https://t.co/LJlhXglZVm

— UFCW Local 400 (@UFCW400) March 5, 2020
The proposed contract includes increasing Safeway's pension input by $18.6 million per year over the course of the four-year contract. Also, increasing wages by $49.5 million overall over the four years. 
UFCW Local 400 also represents Giant Food employees. On Feb. 19, workers reached a tentative agreement with Giant for a new contract. 
At an 8 a.m. meeting this morning, Giant union members voted in favor of the contract, according to a union statement. It retroactively takes effect on Oct. 27, 2019, so it is currently in effect and expires on Oct. 28, 2023. 
Key points in the contract include maintaining pensions and protecting retiree benefits, wage scales that are above the minimum wage and will increase, making wages in Virginia comparable to Maryland even though Virginia's minimum wage is lower, minimal premium increases while keeping health benefits, lowering or eliminating costs on many specialty drugs, and increasing health benefits by raising hours for part-time employees. 
In a statement, Giant said, "Our goal was to reach a fair and reasonable contract that respects our 84-year legacy as a great local brand, honors our associates' contributions and reflects our competitive realities.  We are pleased we have achieved this goal."
Congrats to our @UFCW400 Giant members on their contract #UnionStrong pic.twitter.com/9tpRcBy2WG

— Dyana Forester (@DaOrganizer) March 5, 2020