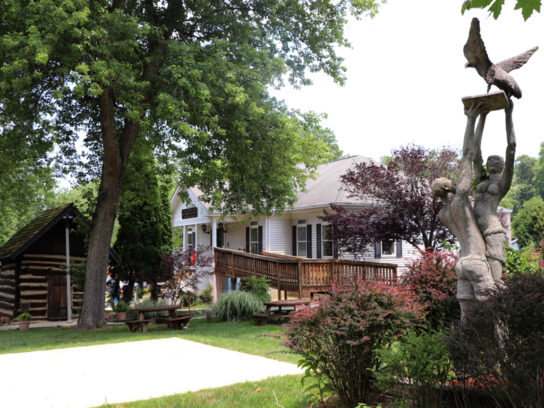 Since 1988, visitors of the Sandy Spring Slave Museum and African Art Gallery have learned about Sandy Spring's Quaker history and its ties to the underground railroad.
The museum has been temporarily closed since March because of the coronavirus and it hasn't hosted any in-person tours. Its closure comes at a time when Montgomery County is fighting two public health crises: COVID-19 and racism (in June, the county council declared that racism is a public health crisis).
After the deaths of George Floyd and Breonna Taylor, there have been thousands of protests in cities across America in support of the Black Lives Matter movement.
Indeed, the national discourse has led many to wrestle with Montgomery County's racist history: students are calling for schools named after slave owners to be reviewed, county councilmembers are asking state lawmakers to replace the state song because of its ties to the confederacy, and county officials are taking action to "defund the police." In the midst of this reckoning, all around the country, more people are consuming art about the Black experience through books, movies, music and more.
But at a time when there is a hunger to reckon with racism, community members haven't been able to visit the Sandy Spring Slave Museum. According to historian Natalie Williams, when the museum was open, visitors would often come more than once because there's so much to unpack.
Outside the museum is the bow of a slave ship, a cabin that housed slaves, and four figurines of slaves in shackles. Inside, are artifacts reminding us of the country's racist history, including KKK robes, manumission papers, and items that kept slaves in bondage. There are also many reminders of perseverance and excellence achieved in the face of oppression in the museums's achievement room, which is decorated with the phrase "From the slave ship, to the space ship, to the White House" across its walls.
https://www.instagram.com/p/CCo7k3cBobO/
Although Montgomery County is in its second reopening phase, the museum still has not reopened and has taken a financial hit because of COVID-19. The museum's leadership estimates that its lost about $10,000 over the last five months.
It's received some revenue through virtual programming, trainings for educators, and virtual field trips. But it's had to cancel some of its programs that brought in much of its revenue, including summer camps and its annual Heritage Day Celebration. The slave museum's leadership team says they've applied for two government grants and have received one so far.
Despite still being closed, the museum is continuing to add to its collection of artifacts and exhibits. When it does reopen to the public, the announcement will be made on the Sandy Spring Slave Museum's website and social media pages.