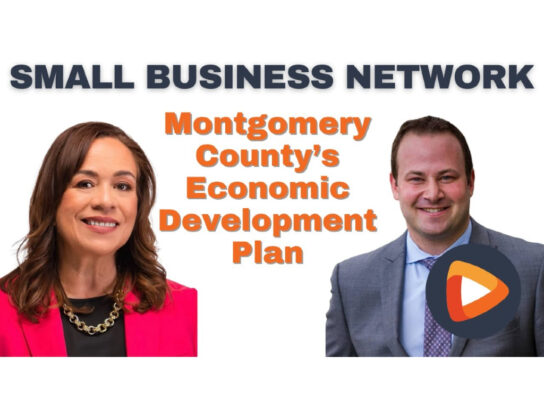 Councilmembers Nancy Navarro and Andrew Friedson join Kelly Leonard for MyMCM's May episode of Small Business Network at Home.
The series of monthly sessions facilitated by Leonard address topics of interest to small business owners in Montgomery County. April's topic is "America's Small Business Community."
Watch the entire show here:
Councilmember Andrew Friedson was elected in 2018 to represent District 1 which includes the western and southwestern area of Montgomery County.
Councilmember Nancy Navarro has served on the Council since 2009 representing District 4, which includes Randolph Hills, Kensington Heights, Aspen Hill, Glenmont, Layhill Village and Colesville to the south; and Ashton, Sandy Spring and Olney.
The Small Business Networking Series usually takes place at Montgomery Community Media (MCM) studios in Rockville, but is virtual due to the pandemic.
About Montgomery Community Media's Small Business Network Series
The series of monthly morning sessions address topics of interest to small business owners in Montgomery County.
Moreover, the series offers the opportunity to invigorate and innovate businesses with insight and information from regional business leaders' presentations and question and answer sessions. Indeed, seminars and networking can enhance the success of local businesses in Montgomery County.
Montgomery Community Media is located at 7548 Standish Place in Rockville, walking distance from the Shady Grove Metro station. Free parking is available.
You can view previous speakers and events, here.
SBN is Brought To You By