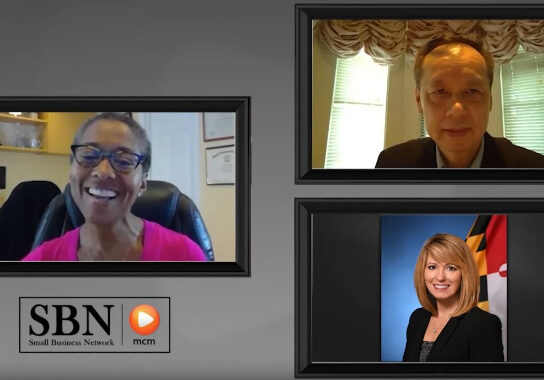 Maryland Commerce Secretary Kelly Schultz and Montgomery County Economic Development Corporations's President and CEO Ben Wu joined Kelly Leonard for Montgomery Community Media's third episode of Small Business Network At Home.
The series of monthly morning sessions addresses topics of interest to small business owners in Montgomery County.
Watch a video of their discussion recorded via Zoom here:
Kelly Schulz
Kelly M. Schulz is the Secretary of the Maryland Department of Commerce. Schulz previously served as the Secretary of the Maryland Department of Labor, Licensing and Regulation (DLLR) since her confirmation in February 2015 and is also a former member of the Maryland House of Delegates.
At DLLR, Schulz was responsible for managing an agency with nearly 2,000 employees and an operating budget of more than $375 million. Under her leadership, Maryland's apprenticeship program grew to its highest level since 2008, with more than 10,000 apprentices statewide. DLLR's Employment Advancement Right Now (EARN) Maryland program received national recognition for both innovation and effectiveness and was named one of the Top 25 programs in the 2018 Innovations in American Government Award competition.
A former member of the Maryland House of Delegates representing Frederick County, she served on the Economic Matters Committee from 2011- 2015. In addition to local issues, then Delegate Schulz took a special interest in legislation relating to banks and other financial institutions, business, occupations and professions, economic development, labor and employment, unemployment insurance and workers' compensation.
Secretary Schulz obtained her Associates degree from Monroe Community College in Rochester, New York and later obtained her Bachelor of Arts in Political Science from Hood College in Frederick, Maryland.
Benjamin Wu
Benjamin Wu is the president and CEO of the Montgomery County Economic Development Corporation (MCEDC). This is a public-private partnership with a board led by business leaders. MCEDC's mission is to support the efforts to attract, retain and expand the businesses in the County.
Previously he served as the Deputy Secretary of Commerce for the State of Maryland. Wu is an internationally recognized technology policy expert and led the creation of significant Maryland, United States, and international initiatives affecting innovation, competition, technology commercialization, international trade, and economic development.
During his 13-year tenure working in Congress, Wu drafted laws affecting federal intellectual property, requiring Y2K readiness, and advancing math and science education. In Maryland, Wu has a substantive record of forging successful public-private partnerships to drive scientific research and development and has effectively collaborated with the state's industry, academia and federal, state and local partners on life sciences, cyber, energy, manufacturing, and international initiatives to accelerate technology-led economic development.
Wu attended Montgomery County Public Schools and resides in Montgomery County.
The Small Business Networking Series usually takes place at Montgomery Community Media (MCM) studios in Rockville.
About Montgomery Community Media's Small Business Network Series
The series of monthly morning sessions address topics of interest to small business owners in Montgomery County.
Moreover, the series offers the opportunity to invigorate and innovate businesses with insight and information from regional business leaders' presentations and question and answer sessions. Indeed, seminars and networking can enhance the success of local businesses in Montgomery County.
Montgomery Community Media is located at 7548 Standish Place in Rockville, walking distance from the Shady Grove Metro station. Free parking is available.
You can view previous speakers and events, here.
SBN is Brought To You By