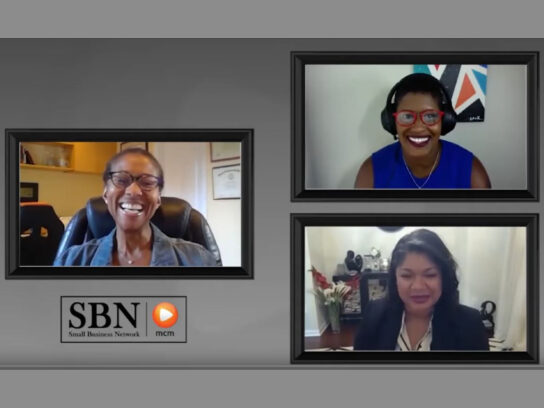 Laura Varner-Norman and Sherron Washington joined Kelly Leonard for Montgomery Community Media's August episode of Small Business Network at Home. The series of monthly sessions facilitated by Leonard addresses topics of interest to small business owners in Montgomery County.
August's topic was "Successful Marketing in a Recovering Economy."
Watch a video of their discussion recorded via Zoom here:
Laura Varner-Norman is the Vice President of Sales and Multicultural/LGBT initiatives at iHeartMedia. She is a marketing professional with over 20 years of experience in digital, radio, event and television integrated marketing; as well as campaign development for corporate partnerships.
Sherron Washington, M.A. is the founder and CEO of the P3 Solution marketing and communications firm located in Silver Spring. P3 Solution specializes in providing simple strategy, design and social media marketing solutions for small businesses.
The Small Business Networking Series usually takes place at Montgomery Community Media (MCM) studios in Rockville.
About Montgomery Community Media's Small Business Network Series
The series of monthly morning sessions address topics of interest to small business owners in Montgomery County.
Moreover, the series offers the opportunity to invigorate and innovate businesses with insight and information from regional business leaders' presentations and question and answer sessions. Indeed, seminars and networking can enhance the success of local businesses in Montgomery County.
Montgomery Community Media is located at 7548 Standish Place in Rockville, walking distance from the Shady Grove Metro station. Free parking is available.
You can view previous speakers and events, here.
SBN is Brought To You By