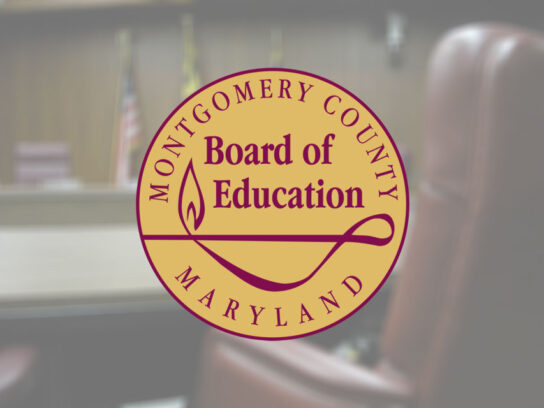 According to early and primary day votes, three Montgomery County Board of Education members appear likely to move on to the November general election, according to unofficial primary election results by the Maryland State Board of Elections at 12:47 p.m. Wednesday.
However, these results do not include mail in or provisional ballots, which are expected to add up to more than 30,000 more votes. Counting of those votes begins Thursday and is not expected to be completed until well into August.
Two candidates for each BOE seat move onto the general election in November. Currently, incumbent Karla Silvestre is the top vote getter for the at large seat. With 246 of 258 precincts for election day and early voting week calculated, Silvestre received almost 52 percent of the vote. She had 37,054 votes and her nearest opponent,  Mike Erickson, received 14,404.
With all 49 precincts counted for District 5, it appears that Board President Brenda Wolff and Democratic challenger Valerie Coll will advance to the November election. Coll currently is in the lead by 308 votes.
Coll has 27,450 votes to Wolff's 27,142. The third candidate, Dawn Iannaco-Hahn garnered 15,932 votes.
Scott Joftus, who was appointed to the board following the death of long-time member Patricia O'Neill, received about 30,000 fewer votes than Julie Yang, who garnered 44,207 votes to Joftus' 15,523. Both appear likely to advance to the November ballot. Marcus Alzona had 13,534 votes in the District 3 race.
Those counts include 56 of 58 precincts.
In District 1, with 48 of 53 precincts of election day and early voting ballots counted, Grace Rivera Oven had a comfortable lead, earning 45% of voters' support. She received 31,926 votes. Also expected to advance is Esther Wells who received 19,824 votes. Alexander Fahmy received 10,074 votes.
Incumbent Judy Docca did not seek re-election in that district.
Headed home from work? Don't forget to stop by and vote in the primary for Scott Joftus for @mocoboe today! pic.twitter.com/SKRvUSUqVd

— Scott Joftus (@ScottJoftus) July 19, 2022