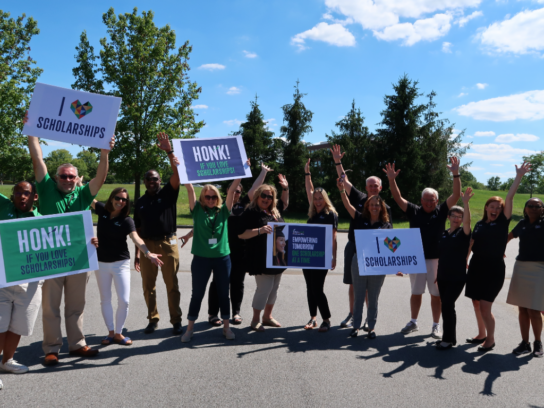 When she received an email announcing her win of a SECU Maryland Foundation scholarship, Anna Petersen, a Paint Branch High School graduate, screamed and jumped to tell her mother.
The SECU Maryland foundation announced the 28 winners of their 15th annual Scholarship Program. Five college bound students live here in Montgomery County, according to a press release.
The winners from Montgomery County include Silver Spring students Petersen, Uchechi Roxo, Joy Frimpong and Mahelet Gennene and Rockville student Keerthana Merugu. 
The foundation awarded a total of $115,000 to the recipients this year. According to SECU Maryland's Assistant Vice President of Community Outreach, Sarah Ryan, the awards stand out as the highest ever given. Amid the pandemic, the program also saw its second highest number of applicants this year after seeing its highest in 2020. 
Petersen will use the funds to support her education at the University of Maryland, College Park. She plans to declare a double major in psychology and criminology and criminal justice.
"I would like to say thank you to SECU so much for this amazing opportunity and it was such an honor to receive the scholarship. I'm really grateful," Petersen said. 
SECU ranks as the largest state chartered credit union in Maryland. Since 2007, it has helped finance more than 250 Maryland students with over $700,000 in scholarships. 
This year, students were asked to write an essay describing their definition of a change agent. Responses were screened by volunteers before the review committee chose winners based on content and technical criteria.
Ryan said that students this year faced obstacles with an online format that forced them to find scholarship opportunities and other financial support for their schooling on their own. She said that these circumstances and the passion of their applicants informed the organization's decision to award the most money ever in their history. 
"I love being able to support their continuous learning and their educational needs and truly help make a difference in their life," Ryan said.
The SECU Maryland Foundation hosted a drive-thru celebration of the scholarship winners on June 24, where students and volunteers who reviewed their essays were able to meet in person.
The scholarships count on the support of SECU Foundation fundraisers, including a yearly giving campaign in October, bingo nights during the year, a golf tournament in September and more.
Applicants can access the SECU Foundation's 2022 Scholarship Program beginning in February 2022. For more information, visit SECU Maryland's website or email secumdfoundation@secumd.com.