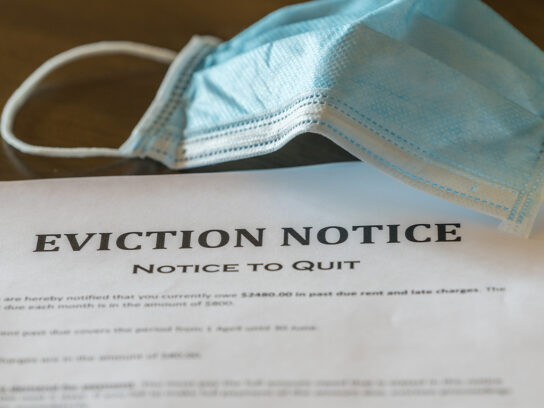 Before the pandemic hit, Maryland already was dealing with a crisis in affordable housing. Since then, it has become more acute, and currently 214,000 Marylanders who are renters are facing eviction, according to U.S. Sen. Chris Van Hollen.
"That's one in 10 Marylanders," he said at Tuesday morning's Roundtable on COVID-19 Housing Crisis. The delinquency rate on mortgage loans in the state is 8.8%, he noted. "We are in an emergency. Obviously, people are hurting."
According to a news release from October 2020, about 20,000 households, or 15 percent of the 130,000 rental households in Montgomery County, were behind on their rent and at risk of eviction due to the COVID-19 pandemic.
Those suffering the greatest during the pandemic are in danger of losing their homes or being evicted from their apartments, Van Hollen said. While current federal and state moratoriums on evictions extend until mid-March and there is financial relief assistance available, 2.1 million homeowners and renters in this country "are seriously delinquent," Van Hollen said, adding that these moratoriums are not permanent.
"We don't want people to be foreclosed upon or evicted at any time but what has happened is that in the middle of a pandemic is victims of eviction end up finding places to live in much more concentrated settings where people are much closer together," he said.
If forced out of their homes, these Marylanders tend to end up in much more concentrated settings, living with multiple people, this increasing their risk of getting COVID-19, he said.
"We are trying very hard to address these emergencies," he said, adding that many Marylanders "are in desperate need of help" and are "still falling through the cracks."
Delegate Jheanelle Wilkins, who represents the Silver Spring, Takoma Park and White Oak area, said affordable housing issues "were bubbling up before, and they are overflowing now." Once the health crisis is reduced, "housing debts will still be here," she said.
Wilkins currently is working with other state politicians on a Housing Justice Package, which would provide emergency housing relief for renters, prohibit rental fees and fines and extend a moratorium on evictions through 2021, she said.
Also during the roundtable, Marceline White, executive director of Maryland Consumer Rights Coalition, said there has been "a dramatic increase in need" for renters. "It's a tsunami with a lag time," she said.