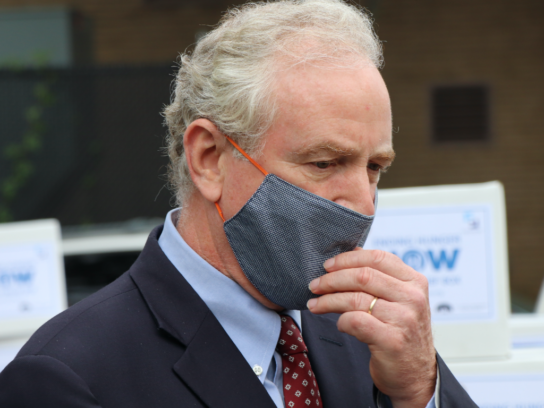 The U.S. Senate's proposed appropriations bill includes funding for several projects in Montgomery County and Maryland. The Senate Appropriation Committee's bipartisan bill now moves to the U.S. House of Representatives for its approval.
The Appropriations Committee, on which Sen. Chris Van Hollen (D-Md.) sits, supported a $2 billion increase in funding for the National Institutes of Health in Bethesda and an $80 million allocation for Walter Reed National Military Medical Center in Bethesda to build in-patient and out-patient medical care, removal two existing buildings and provide information systems.
Also included was $1.889 billion for the Department of Transportation's Capital Investment Grant Program, which includes funding for the federal share of Maryland's Purple Line. It called for $150 million for Washington Metropolitan Area Transit Authority.
"To continue to move Maryland and our country forward, we must ensure that we're investing crucial federal resources in our state and our communities," Van Hollen wrote in a news release. "I pushed for a number of provisions within this package, including funds to support and expand critical federal facilities and military installations in Maryland, modernize our infrastructure and transportation networks, and boost research and preservation efforts for the Chesapeake Bay."
U.S. Senate Appropriations Committee Chairman Richard Shelby (R-Al.) noted that "by and large, these bills are the product of bipartisan cooperation among members of the committee,"
Other projects highlighted by Van Hollen included a restoration of President Donald Trump's proposed cuts to the Uniformed Services University of the Health Sciences in Bethesda, and $56.608 million for the FDA Headquarters Consolidation at White Oak.
Many provisions will affect Montgomery County residents but do not involve institutions here, including funding to curb food insecurity, help for victims of child abuse and the protection religious facilities from terrorism.
"While I'm pleased we were successful in including these provisions, I am deeply disappointed that the Republican Committee Leadership sought to forgo the traditional Committee process, including the opportunity for markup and amendments to these bills," Van Hollen wrote. Attempts to deal with the global pandemic and "reshape our investments in the area of criminal justice" failed, he wrote.
Van Hollen criticized the inclusion of money for the border wall.