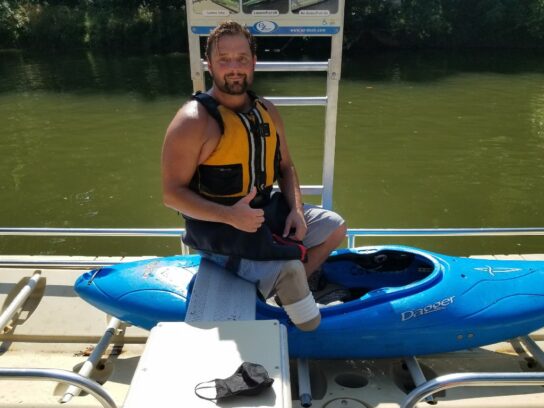 Kayakers, canoeists, and paddle boarders looking to set sail at the Seneca Landing Special Park now have a safer and easier way to embark on their journey.
Located at one of the busiest access points to the Potomac River and C&O Canal, the new floating launch for canoes, kayaks, and other paddle boats is fully ADA accessible, according to a Montgomery Parks press release. The launch includes rollers and handrails to easily enter and exit the water.
Team River Runner, a non-profit organization dedicated to providing veterans and their families adaptive paddle sport activities, initiated the project in 2016. After approaching the Montgomery County Commission on Veterans Affairs with safety and accessibility concerns, multiple planning meetings and surveys were conducted.
Three years later, Montgomery Parks with support from the Commission fully funded and constructed the launch, finishing it back in June, 2020.
Joe Mornini, the Executive Director for Team River Runner, is proud of the new launch, calling it a game changer. "An all-inclusive site for those with physical challenges grants equal accessibility and affords all the opportunity to find health, healing, and social connections on the beautiful waters of Seneca Creek and the Potomac River."
The need for an accessible boat launch stemmed from a kayak program provided by the organizations Walter Reed chapter. The program involves Walter Reed National Military Medical Center patients as well as veterans from around the community, and is offered Sundays from May to November.
Bob Green, the Senior ADA Compliance Project Manager for Montgomery Parks, says the launch has proven to be extremely popular, adding that it improves safety by separating motorized and non-motorized boats. Previously, all boaters had to use the existing ramp for motorized boats.
Green, in the press release, also says it "creates an accessible access point for disabled and able-bodied individuals." Anyone is free to use the newly installed launch.
Montgomery Parks also installed accessible drop-off areas, walkways, a picnic area with tables and grills, and three fully accessible parking spaces to enhance the usability of the park.
Scheduled to begin this winter, a second phase of the project will work to improve accessibility at the existing ramp for motorized boats. Funded by a state grant, improved safety and capacity is also a part of this planned second phase.