Teams from six Montgomery County Recreation Centers paddled their way to the finish line at the first ever seniors Cardboard Boat Regatta Wednesday.
The Damascus Hornets took first place thanks to paddler Dee Nelson and her fellow rec center members who took cardboard boxes, duct tape and large trash bags to create a boat and that was no more than five-feet wide and seven-feet long. They used the same materials for their paddles.
The boat was built and decorated by many who attend the center, including members of the knitting club who made a special Damascus hat for Nelson.
"We tried to get everyone at the center involved," said Ann Gray. "We wanted our boat to represent Damascus."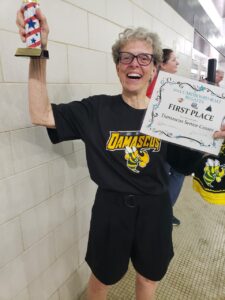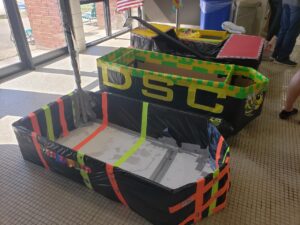 Nelson, 79, couldn't contain her glee as she jumped up and down, waving her trophy high. "I am so happy to be alive and finished," she exclaimed. To her cheering teammates, who waved green and yellow pom poms, "I love you all. We did it."
The competitors came from Long Branch, White Oak, North Potomac, Wheaton, Damascus and Schweinhaut senior centers. All were driven to the Martin Luther King Jr. Swim Center in Silver Spring by Jewish Council for the Aging buses.
The North Potomac boat was called the sunflower. It came in fifth place but went home with the most creative award. During the race, team members yelled, "We are the sunflowers; mighty, mighty sunflowers" over and over.
"It was the first time. Maybe next time we'll do better, said Myong Chun. "Everybody had fun, and we finished it. We did better than we thought."
The Schweinhaut team's boat bore the American flag and took second place, finishing in one minute and thirty-six seconds. "We put our heads together, and then we made it pretty," said Paul Mink, 91, who worked alongside his wife of 71 years.
Mary Pelz was in the Long Branch boat, which came in fourth, "It was so much fun. I figured there was at least a 50% chance we would sink, but we didn't."
White Oak's boat was the submarine, which came in last but earned the Spectacular Sinking Award.
The event was put on by the Montgomery County Recreation Department.
And White Oak senior center opts to use arms after a paddle mishap at today's senior boat races @mymcmedia @MoCoRec pic.twitter.com/2dA7nzYgtR

— suzanne pollak (@SuzannePollak) March 8, 2023
And the senior boat races have begun @mymcmedia @MoCoRec pic.twitter.com/9bFKUDJi0n

— suzanne pollak (@SuzannePollak) March 8, 2023