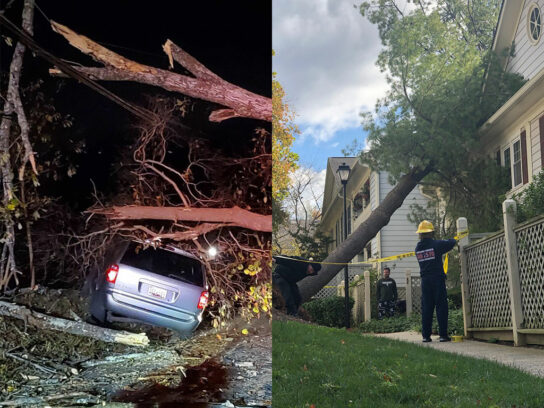 Severe winds Sunday night and Monday caused damage all over Montgomery County.
Due to the extreme wind gusts, several trees and power lines have gone down, according to Montgomery County Fire & Rescue Service (MCFRS) Chief Spokesman Pete Piringer.
Late Sunday night, a large tree fell in Poolesville and crushed a car underneath it. No one was injured in the incident.
Another tree fell onto a residential apartment building in Germantown early Monday. Again, no one was injured, but severe property damage occurred and the entrance to the building was partially blocked.
On Baltimore Rd. near Norbeck Rd., a tree fell and hit electrical wires. Multiple electrical poles and wires on both sides of the intersection were affected. A service worker who was trimming bushes was struck by a 'live' wire, and was transported with "Pri1 trauma," which is life-threatening, according to Piringer. At the time of writing, Norbeck Rd. has been closed between Avery Rd. & Bauer Dr. and Baltimore Rd.
On Nolcrest Dr. in Silver Spring, a tree fell on a house and brought more electrical wires down, but no one was injured.
MCFRS has advised residents to use the following phone numbers to report power outages in Montgomery County: BG&E: 1-877-778-2222, First Energy: 1-888-544-4877, or PEPCO: 1-877-737-2662
To report 'Live' wires down, arcing, on fire/burning/smoking or other life safety issues, call 911.
(1030a) Baltimore Road near Norbeck Road ,Rt28) tree down into wires, 'live' wire struck pedestrian (service worker trimming weeds), multiple poles & wires involved on both sides of intersection) @MCFRS_EMIHS transporting 1 adult Pri1 trauma, some lanes blocked pic.twitter.com/1q2YfRzXlR

— Pete Piringer (@mcfrsPIO) November 2, 2020