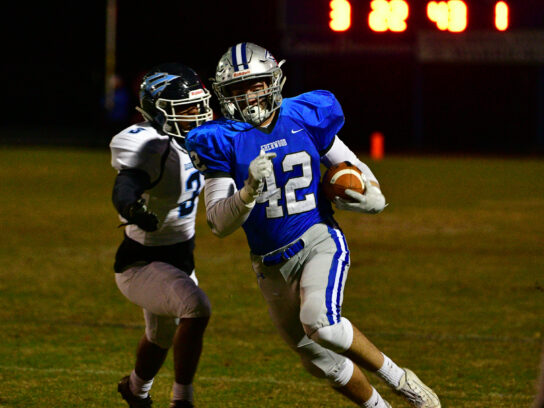 Sherwood High School, Sandy Spring Maryland November 1st 2019
Sherwood is ready for the MPSSAA 4A North Regional playoffs, they proved it by easily defeating Springbrook last Friday night.  Long plays from the line of scrimmage were numerous, long passes to wide open receivers kept the Blue Devils on their heels.  The score at the half was 35-0 which created a running clock in the second half which would only be stopped by a called timeout or injury.
Springbrook seemed out of sync and suffered from bad snaps which resulted in several sacks of the quarterback or loss of yards multiple times.  Coaches prefer that as the season progresses the team performs at a higher level, Sherwood made that difficult for the Blue Devils all night long.
Sherwood Plays host to Catonsville (5-4) Friday night at 7 pm.  Good luck to the Warriors during their 4A North MPSSAA Regional Playoff run.
Pictures to follow by Daryl Schultz