Bethesda, MD: Friday, November 1, 2019
The Richard Montgomery Rockets left no doubt about their desire to further advance into the upcoming MPSSAA state playoff standings.  They rolled up 42 points and a win against B-CC's 14 on Friday night.  The B-CC Baron's loss basically assures them of a 9th place position. They are not in the field of eight in the 4A West Division, just outside looking in.
The Barons had few highlights all evening.  The first was a 3rd quarter catch in the back corner of the end zone to give them their first score.  Then a late 4th quarter pass gave them with 50 seconds left on the clock and opportunity to close within 28 points and stop the running clock.  That was about it for Barons.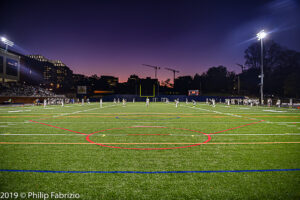 The Rockets benefited from a very strong running game.  Racking up five of six of their scores on the ground.  The win against B-CC most likely moves them to a #3 ranking ahead of Walter Johnson who lost to top ranked Quince Orchard, also on Friday evening.
The senior night home game in Bethesda at sunset gave a great feel for the Friday night under the lights.  Bethesda's tall horizon against a clear sky setting sun made this one unique venue for a football mad county.  Many high school venues across MoCo encompass the rural environs needed to build large schools (aka, waiting on Seneca Valley to finish their rebuild).
So, it was big city lights on a Friday night and two long running programs facing each other with playoffs on their minds.
Photos to follow:
All images copyrighted 2019 © Phil Fabrizio | PhotoLoaf®   for MCM