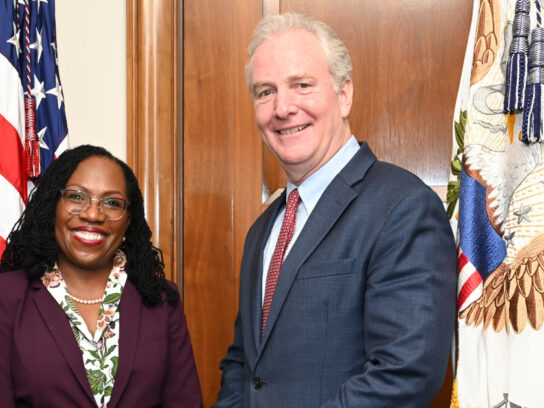 Ketanji Brown Jackson was confirmed on Thursday by the U.S. Senate as the newest Associate Justice of the Supreme Court by a vote of 53 to 47.
Senator Chris Van Hollen (D-Md.) voted for Jackson, calling her "a trailblazer." He tweeted, "Throughout her impeccable career, Judge Jackson's brilliance, wisdom, & grace have shown through. She's unshakeable. She's inspiring."
In his statement, Van Hollen wrote, "With today's vote, both Judge Ketanji Brown Jackson and the United States Senate made history. I was proud to vote to make her 'Justice Jackson' and to participate in this historic moment in our democracy. Over the past few weeks – and throughout her career – Judge Jackson has proven how imminently qualified and prepared she is for this role. Like Marylander Thurgood Marshall before her, Judge Ketanji Brown Jackson is a trailblazer, and I know she will uphold the injunction emblazoned on the entrance to the Supreme Court: 'Equal Justice Under Law.'"
Maryland Delegate Pam Queen from District 14 showed her elation by tweeting photos of Maryland Black women legislators celebrating.
Throughout her impeccable career, Judge Jackson's brilliance, wisdom, & grace have shown through. She's unshakeable. She's inspiring. And soon, she will make history as the first Black woman to join the Supreme Court. This is a victory for America! #ConfirmKBJ pic.twitter.com/Jf3SbgAQcl

— Senator Chris Van Hollen (@ChrisVanHollen) April 7, 2022
Black women legislators from the Maryland General Assembly celebrate the confirmation of Supreme Court Justice Ketanji Brown Jackson! pic.twitter.com/kQGSGWw7WR

— Delegate Pam Queen (@DelPamQueen) April 7, 2022