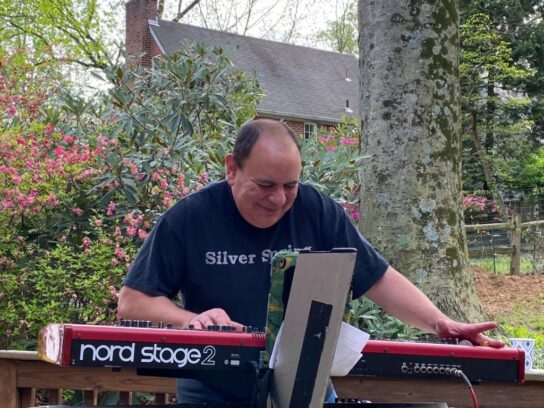 Elliot Levine is a Silver Spring musician who has toured with Wilson Pickett and Heatwave and is now using his free time and talent to raise money for Shepherd's Table and the Maryland Food Bank.
Levine is going into the twentieth week of his backyard concerts that are streamed live over Facebook, where he accepts donations. He says that he has raised about $1070 for Shepherd's Table, a Silver Spring social services organization that provides those in need with free meals, social services, medical support, clothing, among other support.
Levine, who has headlined at Blues Alley and the Kennedy Center, started these concerts when COVID-19 first began to shut down performing centers. He says that he had a lot of time on his hands and after watching the news and seeing how many people were losing their jobs and struggling to put food on the table, he knew he wanted to help.
"I started taking my keyboard in my backyard and playing and a lot of immediate neighbors started listening and applauding."
The concerts include different genres of music each week to keep people coming back. Levine says that his listeners and donations come from all over the world and that he even had the chance to collaborate with a musician from Iceland, whose song was spotlighted one week.
"I tend to, especially now, do things that are inspirational and positive, and that's kind of what my theme is. I try to be uplifting because there are enough things that aren't uplifting, that it's kind of needed," said Levine.
His shows go live on Sundays from 4:30 p.m. to about 5:45 p.m. and his archived performances can be found on his youtube channel. More information on his career in music can be found on his website.