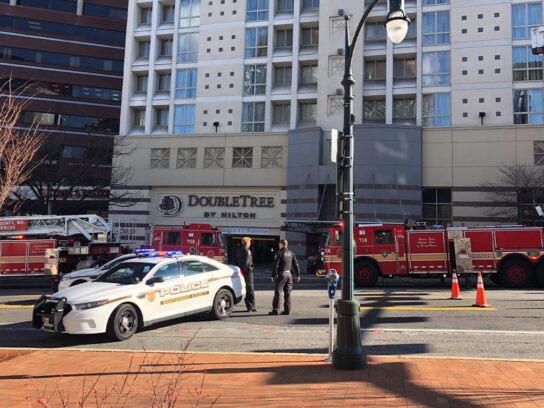 On Monday afternoon, Montgomery County Fire and Rescue Services (MCFRS) investigated smoke inside of the DoubleTree by Hilton Hotel located between Spring Street and Fenton Street in downtown Silver Spring.
Pete Piringer, the spokesperson for MCFRS, said the investigation caused Colesville Road, between Fenton Street and Spring Street to temporarily close. Piringer said many other roads in the area were already closed for various types of mechanical work, so the closure caused significant traffic delays.
According to Piringer, the smoke inside of DoubleTree has now dissipated and occupants have been allowed to reenter the building. An official cause of the smoke has not been determined, Piringer said.
Traffic Advisory – Colesville Rd, Doubletree by Hilton hotel, smoke throughout building, FD activity in area, several roads closed throughout downtown SS area, police directing, avoid area @MCDOTNow @MDSHA https://t.co/Nf4szfWc9R

— Pete Piringer (@mcfrsPIO) January 6, 2020