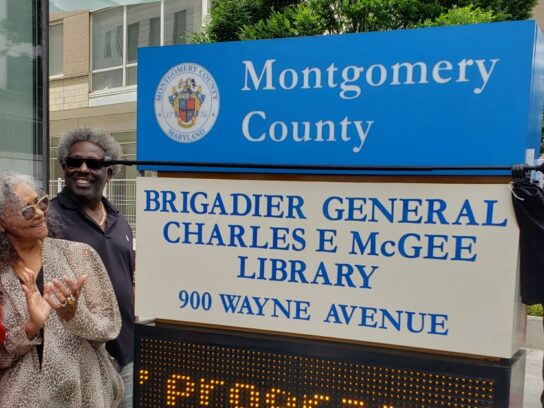 One day after Brigadier General Charles McGee was laid to rest with full military honors at Arlington National Cemetery, the Silver Spring Library officially was renamed in his memory.
The first question he asked anyone he talked to was, 'Have you read any good books lately?' recalled his daughter Charlene McGee-Smith.
If the person replied in the affirmative, the conversation would continue, but if the answer was no, McGee "would always mention that the library is open to all and is filled with good books," his daughter recalled. Education was something he always stressed, she said.
Besides good books, the McGee Library on Fenton Street now has a plaque commemorating "his valiant service as a fighter pilot in World War II, Korea, and Vietnam. As a "Tuskegee Airman" he fought for Double Victory, victory against oppressive regimes abroad victory for racial justice and equality at home."
McGee lived in Bethesda for 30 years before passing away at the age of 102, He entered a segregated military, spending the next 30 years in the service, flying 409 combat missions and earning the Congressional Gold Medal.
County Executive Marc Elrich called McGee "an American hero," noting, "His name will forever be etched on a building in the county where community gathers and kids learn to read."
He praised McGee for "putting his life on the line for a country" in which he didn't share in all the freedoms and rights of white citizens.
In fact, noted a family member, 100 years ago, he would not have even been allowed to stand in the cemetery that buried him yesterday with full military honors, including a flyover.
"He spent his life inspiring, teaching, mentoring and talking about what you need to succeed in life," said Councilmember Will Jawando. "He fought for freedom and against bigotry."
McGee believed in the four Ps, noted Tuskegee Airmen representative Gabriel Christian – Perceive, Prepare, Perform and Persevere. Everyone attending the outdoor ceremony Saturday morning received a bookmark with photos of McGee and "Charles' 4 Ps to Success."
Christian urged everyone to find someone to mentor in McGee's memory.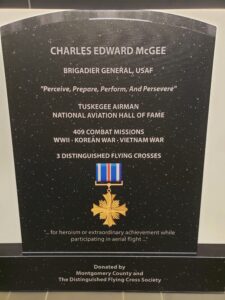 Alpha Phi Alpha Fraternity representative Keven Johnson called McGee "a national treasure. He was a hero," adding, "We cannot all be Charles McGee, but we can all strive to achieve his character."
Eagle Scout Daniel Neloms of Troop 96 said he believes there is some of McGee in every person. "When you put goodness out there, goodness spreads," Neloms said. "When you give goodness, you get goodness. We need more goodness in this world."
McGee's daughter, Charlene McGee-Smith, ended the library renaming service with the words she said he often told his three children when he left to go fly his plane, "Fair winds and blue skies."
The family of Brigadier General Charles E. McGee has contributed artifacts and memories from his life to an exhibit at the renamed Library. Come out this weekend to check it out! Thank you to @artsontheblock and @AkhmedovaABA for their assistance with the exhibit. pic.twitter.com/EuGvDO0wOV

— Silver Spring Urban District (@SilverSpringMD) June 18, 2022
— suzanne pollak (@SuzannePollak) June 18, 2022