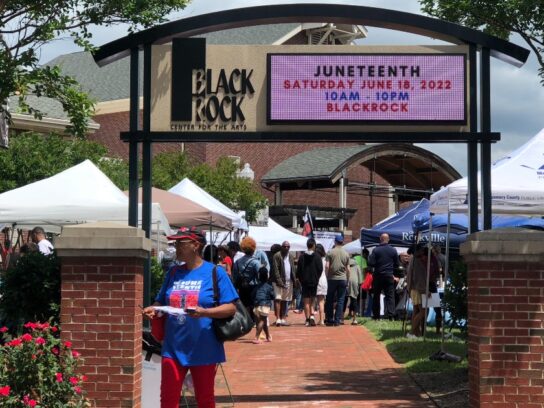 Residents joined Montgomery County's 25th Juneteenth celebration Saturday at the BlackRock Center for the Arts in Germantown. 
This is the first year Juneteenth is both a national and county paid holiday.
"Acknowledgement is so critically important, so it does acknowledge that this is an important day for our community," said Jim Stowe, Director of Montgomery County's Office of Human Rights.
"Today you're going to see, then, Black Montgomery County in its authentic self," he said. The event featured music, vendors, children's activities and food trucks.
Juneteenth, which is June 19, commemorates the emancipation of all enslaved people in the U.S. It marks the day in 1865 when enslaved people in Texas were declared free more than two years after the Emancipation Proclamation.
Last year, President Joe Biden signed a bill to make Juneteenth a federal holiday.
"I said yes, way to go," recalled Frankie Alika, an artist who has lived in Montgomery County for about nine years after moving to the U.S. from Nigeria. She said this is the first Juneteenth event she participated in.
"Let us all unite. We are all one, and let us all love," said Alika.
Sarah Sims, owner of Autumn & Joy, The Self Care Boutique, thought of her grandmother, whose own grandmother was the child of enslaved people. 
"So this is significant for us, because this means we are the legacy of someone who had no options and we have all the options and we're seizing them," Sims said.
The Black Physicians and Healthcare Network (BPHN) offered COVID-19 testing and vaccinations at the event, and promoted mental health resources. Krystal Holland, BPHN Director, said Juneteenth is a celebration of freedom.
"And I believe, historically, we haven't taken the time to really think about the importance of being well. We've kind of made do," Holland said. 
"It's just important, in this venue where so many people of color will convene, to be able to share our message."
The outdoor stage featured musical performances.
"Music is the universal language for all people, for all people from all walks of life," said DJ Ether, who provided a soundtrack for the event. He planned to mix it up with everything from old-school to hip hop and R&B, to new-school.
"A little bit for everybody," he said.
Juneteenth celebration at the BlackRock Center in Germantown. @mymcmedia pic.twitter.com/PKjCeZUBMX

— Maryam Shahzad (@maryam_mcm) June 18, 2022