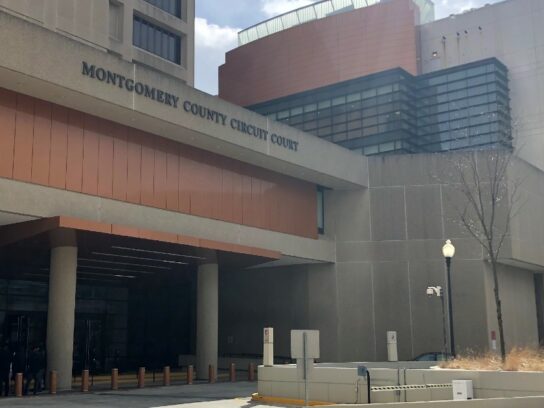 Danys Martinez Lazo, 21, of Silver Spring, was convicted of criminally negligent manslaughter by motor vehicle for the death of Jacques Vainqueur, 57, of Silver Spring.
Martinez Lazo faces up to three years in prison and will be sentenced Sept. 9.
A Montgomery County Circuit Court jury found Martinez Lazo guilty in connection with a Nov. 8, 2020 traffic collision at 4:30 a.m. on Old Columbia Pike in Silver Spring.
According to court records, Martinez Lazo was driving a 2013 Ford F-150 southbound on Old Columbia Pike when he crossed the center line and struck a 2017 Toyota Camry that was driven by Vainqueur, who was heading northbound. Vainqueur's car was driven backwards into a dirt hill on the shoulder of the road and stopped about 78-feet south of the impact.
Martinez Lazo's F-150 rolled onto the shoulder and flipped over before stopping 168 feet south of the impact.
Vainqueur's girlfriend was in the front passenger seat. She was treated for significant abdominal and hip pain associated with wearing her seat belt. Montgomery County Fire & Rescue extricated Vainqueur from the car and transported him to the University of Maryland Medical Center Shock Trauma Unit where he was later pronounced dead. He had suffered numerous fractures, lacerated organs and hemorrhages, according to court records.
Martinez Lazo was walking around when first responders arrived. He was taken to the hospital.
Vainqueur's girlfriend told police that her boyfriend was driving her to work from her house to her job in Sykesville. Police said she told them that after they were hit, "I started screaming. I tried to talk to my boyfriend. He called my name twice and that was it."
Police investigators also spoke with Martinez Lazo, who told them, "I don't remember what road I was on. I was just blinking and as soon as I blinked, it was too late." According to police, he also said that he thought the other car was on his left and he was in the right lane. He believed the other car came into his lane and added, "I don't know how we hit."
According to the police investigation, Martinez Lazo was traveling a little more than 70 miles per hour, which was more than twice the posted speed limit, and the Toyota was traveling at 30 miles per hour.