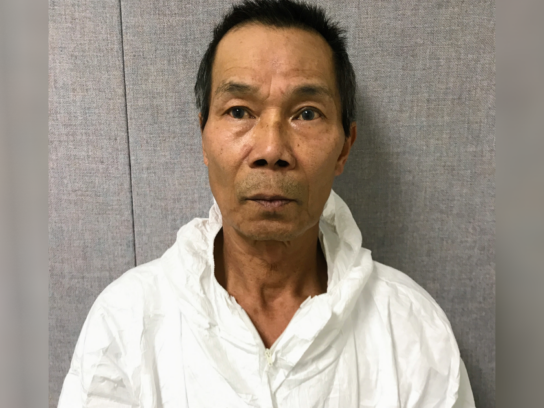 A man from Silver Spring, who was convicted on one count of first-degree murder and two counts of attempted murder, was sentenced to life in prison without the possibility of parole in the Circuit Court for Montgomery County on Wednesday.
According to a press release from the State Attorney's office, Biet Van Tran, 65, was sentenced to life in prison without parole and an additional 55 years for the 2020 murder of Linh Pham, 23, and the stabbing attacks of Quy Luc, 32, and Thi Nyguen, 22. The sentencing was carried out by Judge Sharon Burrell. 
"This was about as vicious an attack as you can possibly imagine," said State's Attorney John McCarthy.
Tran was in a relationship with Luc's mother, who was recovering from a recent stroke, according to the sentencing memo. She lived in a rehabilitation facility while Tran remained in her home. The three victims drove from their Florida residence to Luc's mother's house on May 9, 2020 to determine her living arrangements.
The attack in question occurred after an argument over money between Tran and Luc escalated to violence. In the basement of the home on Balmoral Drive in Silver Spring on May 11, 2020, whatever was said between the two men prompted Tran to stab Luc with a chef's knife. Pham, Luc's girlfriend, and their roommate, Nyguen, were in the upstairs level as Luc escaped the home to find help.
Pham encountered Tran on the main floor before attempting to run up the stairs, but Tran brutally stabbed her as she fled. Pham attempted to shield Nyguen from the attack by pushing her into a bedroom before entering another bedroom where she died from her injuries.
Tran then turned on Nyguen, leaving her critically injured from several stab wounds before she could lock the door. 
"As Judge Burrell stated in court, Biet Van Tran committed the ultimate crime against these three innocent victims and will pay the ultimate punishment," said McCarthy. "We thank the survivors for their bravery in participating in the trial and working with Assistant State's Attorneys Ashley Inderfurth and Kyle O'Grady to make sure this defendant will never harm anyone again." 
Related Articles: