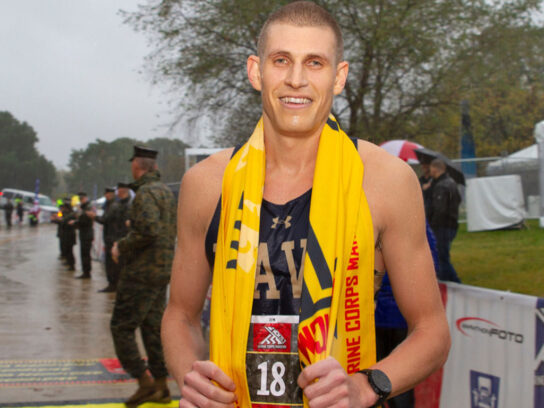 Jordan Tropf is a busy man. He is currently a resident in orthopedic surgery at Walter Reed National Military Medical Center in Bethesda. He's also a marathon runner who cannot always train as often or as hard as he would like.
Neither that – nor a cold and very wet and windy day – seemed to matter on Sunday as Tropf won the 44th edition of the Marine Corps Marathon in a time of 2:27:43.
https://www.instagram.com/p/B4NpG3YBRTs/
Tropf, 27, is not a native of the area – he's from Cleveland – but now lives in Silver Spring.
Brittany Charboneau, 31, won the women's division. Her time was 2:44:47. Tom Davis, 42, won the hand cyclist division with a time of 1:07:10.
The Marine Corps Marathon was established in 1976 and is now the 4th largest U.S. marathon and the 9th largest in the world. It is open to all runners ages 14 and above.
With a break from 24-hour days as an orthopedic surgery resident at Walter Reed, Jordan Tropf ran the @Marine_Marathon and won by 70 seconds. #RunWithTheMarines #rundc https://t.co/HXtfyToeea

— RunWashington (@RunWashington) October 27, 2019