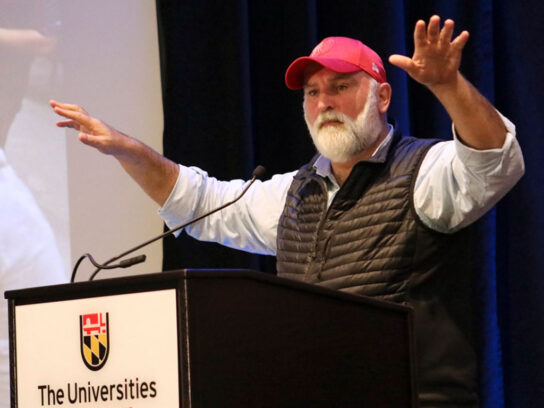 While meeting with students at the Universities at Shady Grove in Rockville on Monday, José Andrés of Bethesda—celebrity chef famous for feeding areas suffering from poverty and natural disaster—talked about starting the nonprofit organization World Central Kitchen.
World Central Kitchen responds to areas struck by poverty and natural disaster by sending relief chefs to feed people who are without food. The organization famously helped feed the people of Puerto Rico after Hurricane Maria and it hosted a number of events to help people affected by the government shutdown earlier this year.
Andrés told students Monday that he started World Central Kitchen after the earthquake in Haiti. Visiting Haiti and cooking in some of its shelters helped Andrés understand how much a plate of food can make in the lives of many people.
When Andrés considers the mission of World Central Kitchen he reminded of a lesson he learned from Robert Edgar.
Andrés urged students to write this lesson on their foreheads: "Charity seems like [it's] always about the redemption of the giver, when charity should be about the liberation of the receiver."
World Central Kitchen doesn't just feed people in times of crisis; Andrés say the organization tries to help restore suffering economies. Rather than bringing food, the World Central Kitchen team buys food and produce locally to help revitalize the local economy.
For instance, after Hurricane Maria, some farmers were denied loans, so World Central Kitchen worked with the farmers and offered them loans to help them rebuild businesses.
Andrés said people are unified by the act of eating: "Eating is the only thing we do from the moment we [are] born to the moment we go to a better life."
"Food says a lot about who we are," Andrés said.
Previous Post: