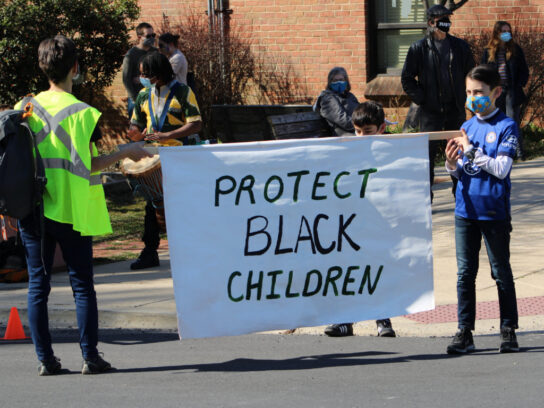 Silver Spring area residents marched from East Silver Spring Elementary School to the Silver Spring Civic Center March 21 to send a message to Montgomery County officials that they must protect Black children. Several councilmembers, state delegates and community leaders addressed the crowd.
The protesters zeroed in on a Jan. 14, 2020 incident in which an East Silver Spring kindergarten student, who had walked away from his school was found by Montgomery County police officers. Silver Spring Justice Coalition members say the officers verbally abused the child as he cried. Coalition members are asking that the police release body camera footage of the incident and the results of any investigation.
(Photos courtesy Karen Caplan)
Councilmember Will Jawando addressed the crowd, vowing, "I am here to say, next year there will not be police in our schools." He also urged police to release information on the incident with the kindergartner, stating, "You can't have justice without transparency."
Councilmember Hans Riemer said the county must never give up on a child. Rather than police in schools, schools must "instead use counselors, coaches and all adults to treat children with respect, and believe in them, and never give up on them."
He added, "I know we are not there. The school system does not yet understand that, and the county government and the police department do not yet understand." However, he added, he and Jawando will continue to fight to end the student resource officer program.
Del. Gabriel Acevero (District 39) also spoke, urging the crowd to "stand in solidarity with each other."
At Vets Plaza tonight in Silver Spring to say NO!! KILLING FINAN BERHE was NOT "reasonable" and we do NOT accept it. #SayHisName #DefundPoliceMoCo pic.twitter.com/UGcTKrd4Ss

— Silver Spring Justice Coalition (@SilverCoalition) October 9, 2020
Shout out to @willjawando who listens to MoCo MD residents asking for changes in police interactions w children. @SilverCoalition demanding accountability after 2 cops berate 5–yr-old for 50 min. #BlackLivesMatter pic.twitter.com/FV2fajaLlR

— Dr. Ilhan Cagri (@icagri) March 22, 2021
"Always keeps his promises" @GabrielAcevero showing up to support @SilverCoalition protest to bring accountability and transparency to police interactions w children. MoCo MD must make immediate policy changes to #ProtectBlackChildren. pic.twitter.com/uMknOjs4Ol

— Dr. Ilhan Cagri (@icagri) March 22, 2021
At today's rally to #ProtectBlackChildren in Silver Spring https://t.co/T3Bkr3sbr1

— Silver Spring Justice Coalition (@SilverCoalition) March 22, 2021
Protect Black Children. From East Silver Spring Elementary School to Downtown Silver Spring. @SilverCoalition pic.twitter.com/ROBbVhbCVb

— Karen Caplan (@quillkdc) March 21, 2021
We're still fighting for #PoliceFreeSchools despite the state passing the harmful HB 522.

Join us today to stand up for Black children's humanity! https://t.co/uP07fm1yFQ

— Racial Justice NOW! 👦🏾👧🏾 (@RacialJsticeNow) March 21, 2021
Thank you @hansriemer for supporting Silver Spring MD community demanding changes in police interactions with children after 5-yr-old was berated by 2 cops for 50 min. pic.twitter.com/lOs7qj7pyA

— Dr. Ilhan Cagri (@icagri) March 22, 2021