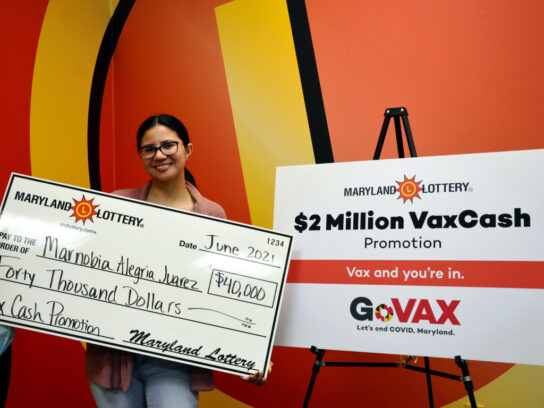 Silver Spring resident Marnobia Alegria Juarez was the $40,000 winner in the June 1 VaxCash drawing. She and her mother traveled to the Lottery headquarters in Baltimore June 11 to claim the prize, according to the Maryland Lottery.
Alegria Juarez was vaccinated in February while living in Prince George's County. She works in a daycare center and said, "Even if I didn't work in a daycare setting, I still would have gotten the vaccine. I believe in vaccines."
When asked if she had told friends and family about her VaxCash prize, the 27-year-old said she hadn't told many people yet, because she wanted to make sure it was real.
Her plan is to invest some of her prize money.
The VaxCash Promotion, announced by Governor Larry Hogan on May 20, is a collaboration of the Maryland Lottery and the Maryland Department of Health, aimed at incentivizing Marylanders who have not yet received their COVID-19 vaccinations while rewarding those who have. All Maryland residents 18 and older who have received a COVID-19 shot at a non-Federal facility in Maryland at any time are automatically entered into daily drawings being held from May 25 through July 4.
Each day through July 3, one winner will receive a $40,000 prize, and the promotion culminates on the Fourth of July when one winner will receive a $400,000 prize.
Maryland allows lottery winners to remain anonymous. A Bethesda resident won the $40,000 drawing Tuesday. Other county residents to win the daily drawing so far include a North Potomac resident (May 29), a Clarksburg resident (June 3), a county resident (June 7) and a Potomac resident (June 11).
Previous Post
Hogan Announces $2 Million Lottery Incentive for Vaccinations