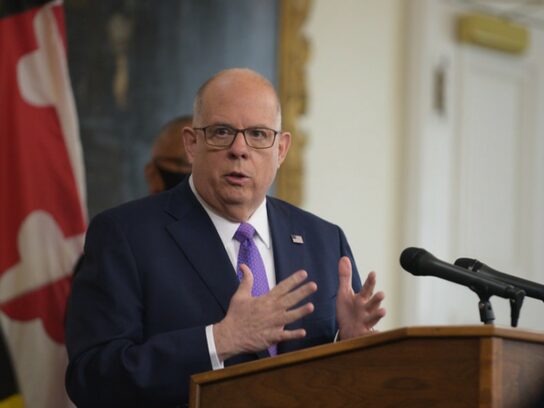 Gov. Larry Hogan issued a statement announcing that a case of the B.1.351 variant of COVID-19, originally detected in South Africa, has been found in Maryland. Maryland Department of Health  confirmed the case in consultation with the CDC.
Two cases of the variant were first detected in the United States in South Carolina on Jan. 28. The Maryland resident who has the latest strain is an adult who lives in the Baltimore area, according to the governor's office. The resident has not traveled internationally, meaning it was likely spread through community transmission.
The B.1.351 variant of the SARS-CoV-2 virus first detected in South Africa has been identified in Maryland. We continue to closely track new variants, and ask Marylanders to limit transmission by wearing masks, avoiding gatherings, and washing your hands.https://t.co/gfYan8HHvt

— Governor Larry Hogan (@GovLarryHogan) January 30, 2021
According to the governor's office, "The B.1.351 variant has not been shown to cause more severe illness or increased risk of death when compared to other variants." However, it is believed that the new variant is more transmissible than other strains.
More research is needed to determine the effectiveness of available coronavirus vaccines against the South African variant. The governor's office says it is expected that current available coronavirus tests are able to detect this variant.
There is no current evidence that the South African SARS-CoV-2 variant causes more severe #COVID19 disease. Like UK & Brazilian variants, preliminary data suggests this variant may spread more easily and quickly than other variants.

— CDC (@CDCgov) January 28, 2021
"State health officials are closely monitoring the B.1.351 variant of SARS-CoV-2 in the state," Hogan said in a statement. "We strongly encourage Marylanders to practice extra caution to limit the additional risk of transmission associated with this variant. Please continue to practice standard public health and safety measures, including mask wearing, regular hand washing, and physical distancing."
Hogan announced on Jan. 12 that two cases of the B.1.1.7 strain, known as the UK Variant, were detected in Maryland. Since then, CDC has reported that seven cases of the UK strain have been found in Maryland.
CDC's recommendations for slowing the spread of #COVID19—wearing masks, staying at least 6 feet apart from others, avoiding crowds, ventilating indoor spaces, and washing hands often—will also prevent the spread of these variants.

— CDC (@CDCgov) January 28, 2021
Related Posts:
UPDATE: Maryland Confirms Two Cases of New COVID-19 U.K. Variant in Anne Arundel