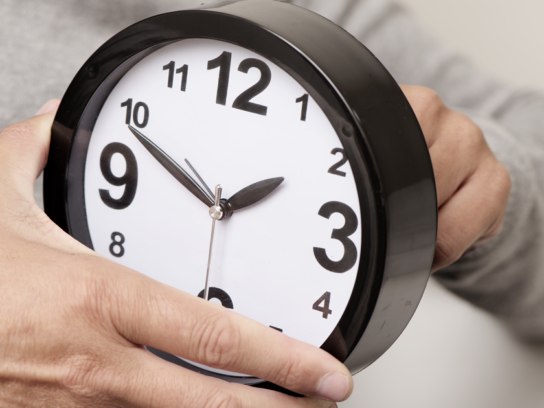 We can either look forward to an extra hour of sunlight or complain about losing an hour of sleep. Daylight Saving Time (DST) starts Sunday morning, March 12, at 2 a.m. As you set your clocks ahead one hour, it is a good time make sure your smoke alarms and carbon monoxide detectors are functioning correctly.
According to the National Institute of Standards and Technology (NIST) website, daylight saving time (DST) is the part of the year when we advance our clocks by one hour, shifting the time of day in relation to where the Sun is above Earth. That means daylight begins an hour later in the morning and lasts an hour longer in the evening.
The changeover back to Standard Time (ST) occurs on the first Sunday in November at 2 a.m. Some people remember which way to move their clocks using the phrase, "spring forward, fall back."
Find more information about local time on the NIST website.
Montgomery County Fire and Rescue Service (MCFRS) urge residents to check their smoke alarms and carbon monoxide detectors. Fire Chief Scott Goldstein shares his top eight safety tips in his article, "Spring forward time!"
RT @mcfrs Ready to Spring FORWARD this weekend? Remember to CYA (Check Your Alarms)!
🔸Smoke alarms w/ 10-year sealed batteries don't need replacement. Hard-wired smoke alarms w/ replaceable BACK UP batteries do.
🔸Chief's Top 8 Tips: https://t.co/4r4h23n89x#BeSafe pic.twitter.com/r7r8efB9qa

— Pete Piringer (@mcfrsPIO) March 9, 2023