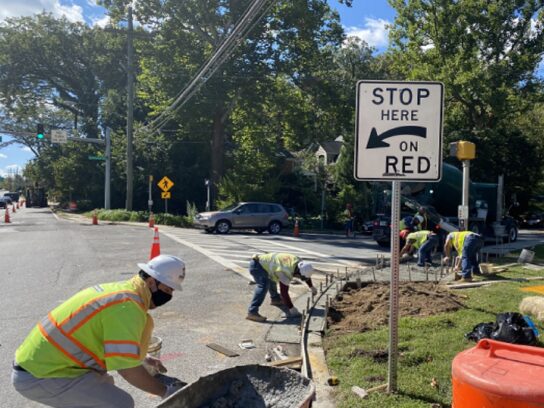 If it was a TV show, they might call it "Extreme Makeover: Route 29 Edition."  The Maryland Department of Transportation State Highway Administration (MDOT SHA) began a roughly 3.6 mile repaving project along US Route 29 on Monday.
The project, which runs from St. Andrews Way to Stewart Lane in Montgomery County, began earlier this year with crews working on guardrails, and converting existing driveway aprons to be ADA compliant. Crews are also working on concrete curbs, storm drains, bus stops, and pedestrian ramps along the nearly four mile stretch.
MDOT SHA announced Monday that crews would begin the resurfacing project, starting between Stewart Lane and New Hampshire Ave. The project will include lane closures in both directions from 9 a.m. to 3 p.m. weekdays, with overnight closures scheduled Sunday through Thursday between 9 p.m. and 5 a.m. MDOT SHA warns that additional closures may be required to stay on schedule.
An exact finish date for the initial portion of repaving is unclear, but MDOT SHA hopes to have it done by the end of the year. This will not be the end of construction as crews will return next year to complete the second phase of resurfacing from New Hampshire Ave. to St. Andrews Way.
Drivers are asked to stay alert in order to maintain safety within the work zones. Electronic signs will also keep the public updated of upcoming work and any changes to traffic patterns.
SHA begins a resurfacing project today on US 29 from Stewart Lane to MD 650 in Silver Spring. Motorists should expect closures in both directions of US 29 weekdays 9 am – 3 pm and overnight, Sunday – Thursday 9 pm – 5 am. More: https://t.co/A81bCJCr5U #mdtraffic #mdotnews pic.twitter.com/3MoSIR86AW

— MD State Highway Adm (@MDSHA) October 19, 2020
This construction is part of the $5.7 million US 29 safety and resurfacing project. MDOT SHA projects construction will be completed by the end of 2021.