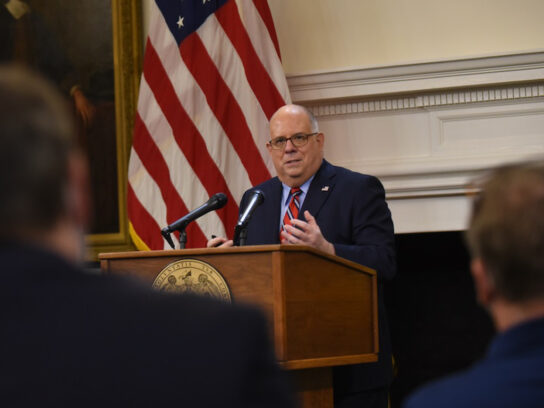 State Superintendent of schools Karen Salmon announced July 22 that local school districts have the power to decide whether to begin school virtually, in classrooms or a combination of the two. Montgomery County School District Superintendent Jack Smith announced July 21 that for at least the first semester, schools will operate virtually here.
When students and staff return to the classroom, they must follow Centers for Disease Controls rules on doing so, mandate face coverings and have specific plans on what to do should a student or staff member become affected with COVID-19.
Regardless of whether students are taught virtually or in the physical classroom, all students must be educated with equity and specific learning issues in mind, Salmon said.
The state's job is to assist school districts, she said. Maryland is allocating more than $225 million to pay for necessary technology and tutoring for at risk students. Some of the funds also are designated to bringing broadband to rural parts of the state, she said.
"We want to get our students back to school as soon as possible," Salmon said, adding, "However the imminent health and safety of students must always be the first priority."
Also during the hour press conference, Gov. Larry Hogan stressed that the November general election will "be an all-of-the-above election with the most choices possible."
All registered voters will receive absentee ballots in the mail. If they choose not to vote by mail, they can participate in early voting or cast their ballot on the actual day, he said.
Watch the entire press conference:
"We can't have a repeat of the primary," Hogan said, recalling problems with the absentee ballots and long lines to vote. He urged everyone to "take the politics out of this" and allow voting in person as well as by mail.
Hogan was upbeat as he spoke of the progress Maryland has made in dealing with the novel coronavirus. However, he stressed that unless Marylanders continue to wear masks and social distance that could change, as it has in many other states.
He is particularly concerned with people 34 years of age or younger, and urged them not to gather in groups.
Statewide, the testing positivity rate currently stands at 4.49 percent, which is "a decline of nearly 83 percent" since it peaked on April 17. In Montgomery County, the positivity rate was 3.1 percent today, which is a drop of 90 percent from a high of more than 32 percent on April 30, Hogan said.
At one point during the news conference, Hogan gave a shout out to Montgomery County "for cracking down on businesses that flagrantly" disregarded the rules on being open.
As of July 22, Maryland has tested more than one million people, he said, although he is concerned how long it takes for some people to get their test rests.
He announced the opening of a laboratory at the University of Maryland, Baltimore Campus, where the test results will be ready in 24 to 48 hours "for priority cases."
Hogan urged Marylanders not to travel to areas with increasing COVID-19 cases. Those who do should be tested and quarantine until they receive their results, he said. He urged people to telework when possible, avoid large gatherings, wear masks and not to use public transportation.
"This crisis is not over," he said.
Related Post
MCPS to Provide Virtual-Only Instruction Through January 29; Fall, Winter Sports Canceled
Smith Says He Understands Families' Choices As MCPS Enrollment is Below Projection