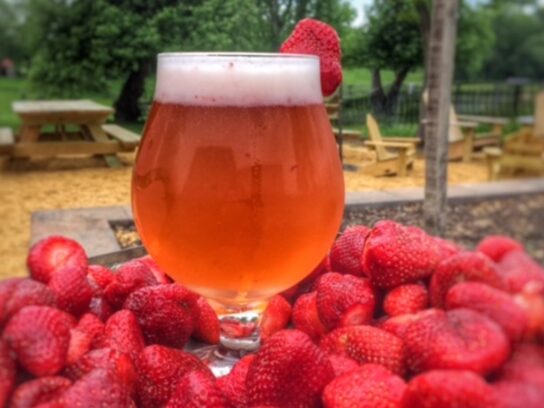 The 40th Annual Strawberry Festival, a two-day celebration of all things strawberry, returns to the Sandy Spring Museum on June 11 and June 12.
There will be plenty of music performances, featuring the Panorama Jazz Band, whose members have roots in Sandy Spring; Gerdan, which was founded by a Ukrainian duo; and Dave Chappell of Dave Chappell Trio. Attendees also can enjoy Thai classical dance, Persian popular music and Afro-Cuban rhythm traditions.
"This year's line-up of Strawberry Festival performers is representative of the incredible diversity of Montgomery County, Maryland," says Douglas Peach, Folklife Specialist at Sandy Spring Museum.
There also will be pony rides, games, crafts from local artists, gardening booths and lots of strawberries. An insect show, rock climbing wall and face painting also will be featured.
The Daily Crepe food truck will be selling its specialties. Here is one of Chef Pablo Bustos's delicious recipes.
Strawberry Cheesecake Delight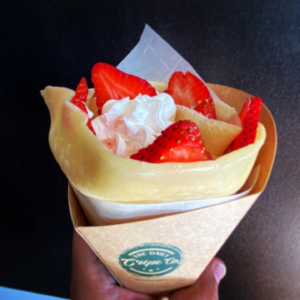 For the Crepe:
2 eggs
3/4 Cup Milk
1/2 cup Water
1 Cup Flour
3 Tbsp Melted Butter
Some more butter for the pan
Combine all ingredients in a blender, 10-15 seconds. Let rest overnight.
Heat up a pan, and pour some of the batter in the center, spreading it out with a ladle or swirl moving the pan. Cook for 30 sec. and flip.
Repeat until the batter is gone. Cool them down before storing. Place in resealable bags in the fridge. They will last a few days or else freeze them for up to 2 months.
You can add other ingredients to the batter, such as sugar, cocoa powder, spinach, etc.
For the Complete Crepe:
1/2 cup Fresh sliced Strawberries
1/2 cup Philadelphia No Bake Cheesecake batter (you can also use cut up cheesecake)
1/2 cup Graham Bread Crumbs crackers
Whipped cream as desired
Open the crepe
Add the cheesecake first, then the strawberries, cracker crumbs and whipped cream. Next, fold in thirds and sprinkle with powdered sugar. Bustos suggests a bit of Nutella on top to complete the crepe.
The two-day event will be held on the museum grounds at 17901 Bentley Road, Sandy Spring from 10 a.m. to 5 p.m. on Saturday and 11 a.m. to 4 p.m. on Sunday. Tickets are $5 per person, $20 for the family or $15 for unlimited play.
The Strawberry Festival is the museum's big fundraising event, which was founded in 1981. Museum staff hopes to raise $120,000.
"We're so excited to welcome everyone back. This event is part festival, part community reunion. It's amazing that an event this large still feels like an old-fashioned, small-town party," said Allison Weiss, executive director of the museum.