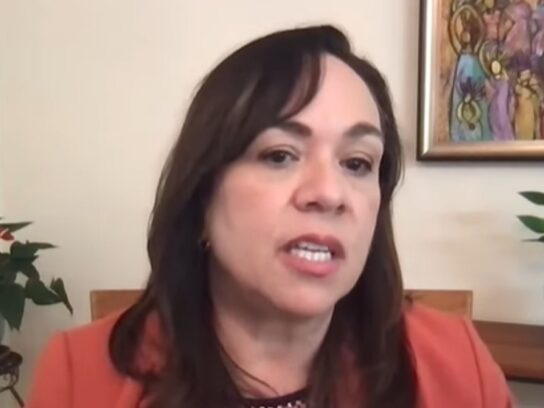 Montgomery County Councilmember Nancy Navarro briefed officials from throughout the Greater D.C. area on the county's focus on equity. She spoke Wednesday during a Metropolitan Washington Council of Governments meeting.
Montgomery County, with Navarro at the helm, has made it a priority to assist its 49 equity emphasis areas where there are disparities in economy, health, transportation, housing and other issues. County employees are trained in equity emphasis, and all county departments have equity emphasis plans.
About one-quarter of the county's population – 276,000 people – live in these areas. The county strives to help raise levels in various areas so that eventually all county residents will have access to the same services and benefits, she said.
"This is definitely a tool that fosters equitable outcomes in land use, transportation, economic development, environmental issues and more," she told those who she hopes will incorporate similar practices in their localities.
When she first began this work in 2018, she received pushback. "Now, it seems like it's part of our lexicon," she said.
Navarro credits the pandemic for highlighting inequity, noting that it really showed "point blank, why equity is so important." It enabled the county to realize that Black people suffered higher mortality rates, and Hispanics had more cases of COVID-19, she said. It also allowed the county to see who was getting vaccinated.
By pushing for equity, "We closed the vaccination gap," she said.
An emphasis on equity also affects how the county deals with its goal to eliminate traffic deaths by 2030.
According to county statistics Navarro cited, in 2020, Blacks and Hispanics each accounted for 21% of fatalities, even though Black people make up 12% of the county population and Hispanics account for 19%.
"We need to address these disparities. The reality is, if we are not all doing well, then we can't all be doing well," she said.
At the end of her presentation, Takoma Park Mayor Kate Stewart thanked her, pointing out that Navarro's term as councilmember and member of the Council of Governments expires soon. "You can truly look at this work as your legacy," Stewart said.