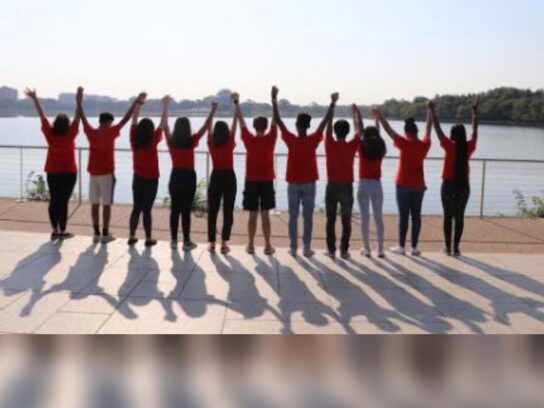 A new social media survey led by local teens aims to make civic education more relatable and equitable for youth nationwide.
The #CivicsForUS social media campaign is spearheaded by the Youth As Civic Experts Network. It is designed to start a conversation among young people about how civic education experiences can be more relevant to students. Campaign organizers say about 88% of the young people who responded to the survey so far expressed that events like COVID- 19, racial justice protests, and the 2020 Election helped them understand how the government works. These events also inspired them to want to get involved or make a difference.
MyMCM spoke with Blair High School junior Dhruv Pai, one of the 35 students leading the nationwide effort.
🎉🥳It's launch day for #CivicsForUS, the largest student-led effort to understand what young people 5th grade through college have to say about civic education!

🔴Follow the hashtag #CivicsForUS
⚪️Join the listening tour
🔵Learn more: https://t.co/1O7axYcuPm pic.twitter.com/V9wsmRz7Uq

— Youth As Civic Experts (@CivicExperts) March 8, 2021
From March to June, the Youth As Civic Expert Network will use the hashtag #CivicsForUS to engage other young people in a conversation and allow them to share their experiences in their local communities. The listening tour asks students from fifth grade through college to share first-hand why they feel civic education is so important right now and how it can be more equitable and relevant to them and their peers. So far, organization officials say the effort has collected nearly 5,000 responses from youth in 43 states, Washington, D.C., and Puerto Rico.
The campaign listening tour and social media campaign will end on June 30th. You can learn more or join the effort by visiting the #CivicsForUS website.
What does equity in civic education mean to you?

"It's important for youth to know that we have the power to write to and contact local government regarding direct changes we would like to see." – 11th grade student, Redbank Valley HS, Pennslvania#CivicsForUS #civiceducation pic.twitter.com/cvxhZvjoRc

— Dr. Joe Harmon (@DrJHarmon) March 28, 2021
The time is now to improve American history and civics for all K-12 students.

Join #CivXNow in supporting the bipartisan Civics Secures Democracy Act that was reintroduced TODAY in both the House and the Senate: https://t.co/E4VKCtjzyE #civics #civiceducation pic.twitter.com/gQTNcyMYsU

— CivXNow (@CivXNow) March 11, 2021