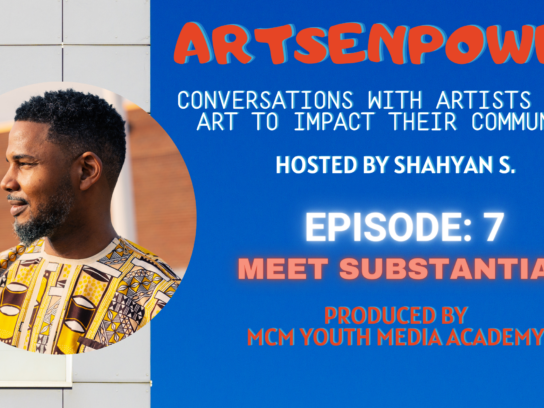 Stan "Substantial" Robinson is a hip-hop recording artist, an educator, and visual aritst who teaches media and music recording at various Montgomery County, MD places of learning, including Montgomery Community Media.
As a rapper and producer, he has traveled around the world and has worked with artists such as Nujabes, Oddisee, and the legendary Godfather of Hip-Hop, DJ Kool Herc while also collaborating with major brands such as Amazon, Ford Motors, Uber and Bentley Motors.
ArtsEnPower is a youth-produced program series that focuses on the ways that creative people use their artistry to positively impact their community.
ArtsEnPower is a project through the MCM Youth Media Academy. The MCM Youth Media Academy is an out-of-school time program that offers media instruction and leadership training to youth aged 13-17 years-old.
Taught by Montgomery Community Media professionals, using an Advancing Youth Development (AYD) framework, MCM Youth Media Academy is designed to engage youth in quality media instruction tailored to their age group. This production was recorded and produced virtually as MCM studios are closed to the public due to COVID-19.
To learn more about MCM Youth Media Academy, visit https://www.mymcmedia.org/youth​​
MCM Youth Media Academy ArtsEnPower Cast/Crew:
Hosted by Shahyan S.
Executive Producer-Mareya B.
Written by Khari D. and Laila J.
Trivia Game Producer/Host- Laila J.
Graphics and Opening/Closing Credits by Allen A.
MCM Youth Media Academy Instructors:
Khadijah Ali-Coleman, Ed.D.
Krushae Starnes