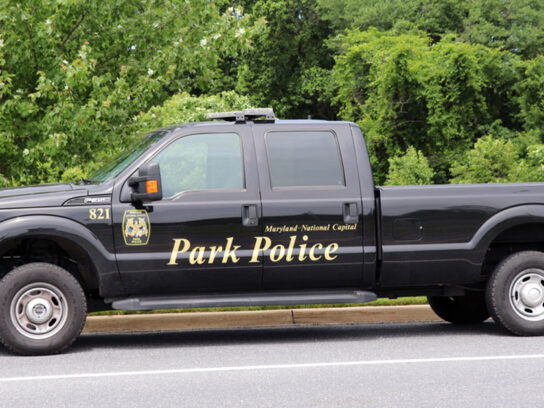 A Maryland-National Capital Park Police officer was shot at Tuesday morning during a traffic stop. The shot missed the officer, and police did not return fire.
The incident began when police responded to the Olney Swim Center at 9:16 a.m. Feb. 1 for a report of a suspicious person. Staff there believed the person was involved in previous thefts at the center.
When officers arrived, the suspect was leaving. They attempted to stop the driver, but the suspect fled north on Georgia Avenue. Police did not give chase.
About 1.5 miles further north on Georgia Avenue, a vehicle matching the description of the fleeing car was spotted at the scene of an accident near King William Drive. Witnesses there told police  the driver involved had fled on foot.
The suspect was found by Buehler Court. When Park Police officers approached, the driver shot at them with a handgun, at close range. The shot missed, hitting a parked car instead.
The suspect fled once again but was apprehended nearby and taken into custody.
Police located the suspect's handgun and shell casing. Charges are pending, Park Police said.
Montgomery County Police and Montgomery County Sheriff's Department assisted.
Officers are on scene at Georgia Ave and King William ref. an earlier incident at Olney Swim Center. A subject fled and fired one shot at officers. Officers did not return fire and the subject was taken in to custody. No injury to officers PIO is on scene and more info to follow.

— Park Police MC (@ParkPolice) February 1, 2022