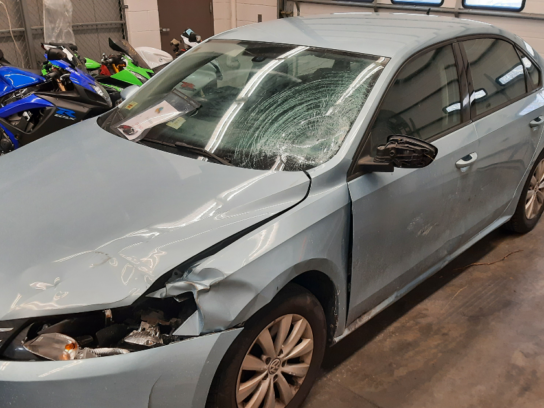 La policía del condado de Montgomery (MCPD) localizó el automóvil, que creen que estuvo involucrado en atropellar a Luz Marina Roa, y el conductor se dio a la fuga. Roa fue declarada sin vida en la escena.
El 17 de enero, Roa fue atropellada y falleció en la intersección de Veirs Mill Road y Ferrara Avenue en Wheaton, y la policía ha estado buscando el vehículo desde entonces.
Una conferencia de prensa reciente dio como resultado varias pistas que ayudaron a MCPD a identificar al propietario del vehículo, y dónde se podía encontrar. El Volkswagen Passat azul claro fue recuperado en Washington, D.C. La policía también obtuvo una declaración del conductor del Passat.
Detectives from the Montgomery County Department of Police – Collision Reconstruction Unit (CRU) have located and identified the vehicle involved in a fatal hit and run collision that occurred on January 17, 2022.https://t.co/dLMVqsc046#MCPD #MCPNews pic.twitter.com/HF9EIi8WKJ

— Montgomery County Department of Police (@mcpnews) February 1, 2022
El conductor fue puesto en libertad en espera de los cargos de la oficina del Fiscal del Estado de Maryland.
La investigación está en curso, dijo la policía.
Publicación Previa
Policía Pide Ayuda Para dar con el Conductor de un Fatídico Atropello