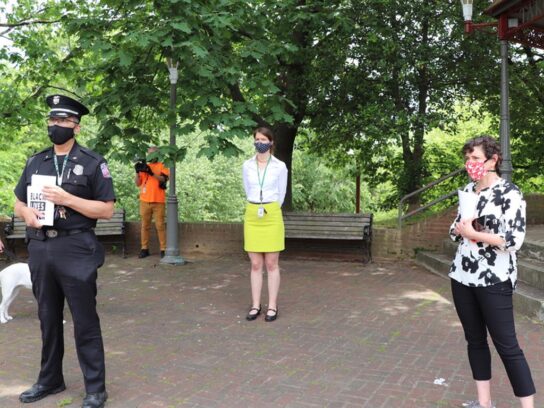 Takoma Park Mayor Kate Stewart and the city's Chief of Police Antonio DeVaul held a discussion at the gazebo on Carroll Avenue to talk about an officer's "dismissive" interaction with an activist that occurred around midnight Tuesday.
The activist, Sokka Asif, shared a video of interaction on her Instagram page, which has—as of Tuesday evening—been view nearly 12,000 times. In the exchange—which comes as thousands of people around the country have been protesting police brutality and racism because of the killing of George Floyd by an officer in Minneapolis—an officer is shown taking down flyers around Takoma Park, which were created by Asif.
In the video, Asif is heard asking the officer why he's taking down the flyers, which were made to bring awareness to the issue of black men being killed by police brutality. The officer responds saying, "I can only worry about Takoma Park, where I work."
As a result of the video, Takoma Park City Manager Suzanne Ludlow announced she's taken emergency action to suspend rules about sign posting. After the condemning the officers interaction, Stewart and DeVaul both hung "Black Lives Matter" flyers with the community. The two leaders said the City of Takoma Park and its police department stand with the Black Lives Matter movement.
"We stand with black people in our community across the country," Stewart said. "George Floyd, unfortunately, is not the first victim of police violence. There's been police violence in Montgomery County and all across this country and it needs to end and in Takoma Park we definitely stand with Black Lives Matter and all of those who are  out there protesting, marching for an end to this."
Previous Post:
After Video Shows Officer Removing Signs, Takoma Park Lifts Sign Restriction Ordinance