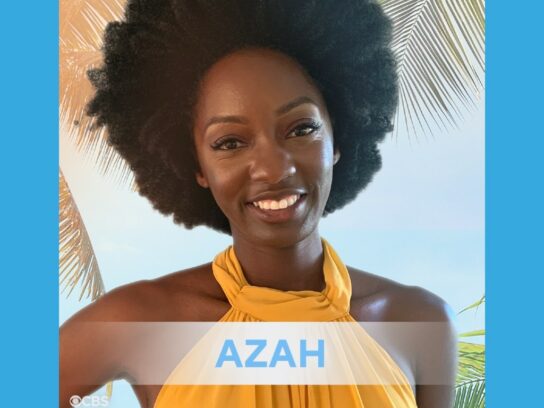 Azah Awasum from Takoma Park is among the contestants in the new season of the CBS show Big Brother. She appeared on last week's season premier episodes.
Awasum, a director of sales operations, is competing against 15 other houseguests for a $750 thousand cash prize – the largest in Big Brother history. She was introduced in the first episode that aired on July 7 telling CBS that she's a first-generation American, her family originated from Cameroon and her father is a pastor.
Awasum also said her "grandfather is Parliament to the king and had six wives." She added, "my father is one of 47 children and I have over 300 cousins."
On her biographical page, Awasum described herself as "charismatic, crafty and clumsy." She told CBS she loves to cook and completed a century on her bike (a ride of 100 miles or more) earlier this year.
 

View this post on Instagram

 
Awasum is an avid traveler and said she's been to 26 countries so far. Prior to the pandemic, she would visit four countries each year.
She said her name Azah means "able to make friends" which she hopes to do in the Big Brother house.
"I love duos. My favorite Big Brother player was part of a duo. Alison and Jun from BB4 dominated the house with loyalty only to each other," said Awasum. "I hope to get a powerful partner in the house and sit with them in the final two."
In her introductory video filmed at Sligo Creek Trail, Awasum shared her strategy for the season saying "no showmances." The term "showmance" has been used in almost every season of the show to describe players who become romantically involved while isolated inside the Big Brother house.
It's only the first week, but the #BB23 houseguests are playing hard! 💪 They're ready to do whatever it takes to take home $750K! pic.twitter.com/HoTe1pf8kn

— Big Brother (@CBSBigBrother) July 11, 2021
"Spot the power players early and annihilate or divide them one by one! Play for MYSELF, not the house. I'm hoping my amiable appearance will cause the guests to let their guards down with me," Awasum told CBS. "I want every houseguest to feel like they have me in their pocket. Finally, I make really good decisions as long as there is no romance involved."
One of the big twists this season caused the contestants to pair up in groups of four to compete against each other. Awasum is currently in the group named "Jokers" as part of the gambling theme the show has taken on this season.
Let's get you caught up, West Coast. An all-new #BB23 starts NOW! Who are you rooting for? 👀 👀 pic.twitter.com/O5xGhlfpS5

— Big Brother (@CBSBigBrother) July 12, 2021
While she said she'll miss her family and seven best friends, she looks forward to competing in some of the show's iconic competitions such as OTEV. "I am a beast at musical chairs, so I hope to get that Veto in the bag!" Awasum said.
The first elimination episode airs Wednesday at 8 pm on CBS. All episodes of season 23 can be viewed on the CBS website and 24-hour live feeds are running every day to those who subscribe.