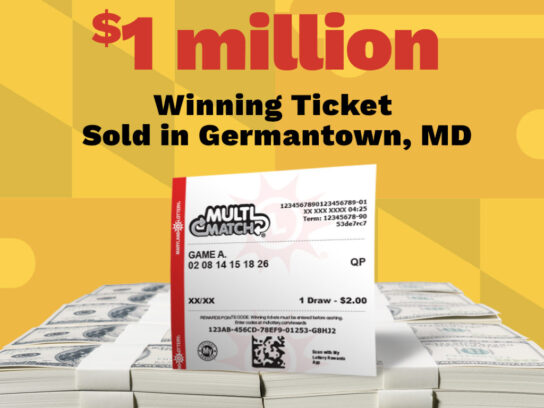 A beer and wine store in Germantown sold a lottery ticket with a prize of $1 million on July 5, according to a press release by Maryland Lottery.
The winning numbers came up on the July 5 drawing, but as of July 13, the prize remains unclaimed. The winner is the fourth player to hit a Multi-Match jackpot in 2021.
And the winning numbers? They are 5, 6, 31, 34, 35, and 39.
The Multi-Match ticket was purchased at Germantown Beer & Wine located at 13046 Middlebrook Road. For selling the winning ticket, the Montgomery County retailer earns a bonus of $1,000 from the Lottery.
Congratulations to the newest Maryland millionaire! The jackpot-winning Multi-Match ticket was sold at Germantown Beer & Wine in Germantown. https://t.co/zpmvFJXUbu pic.twitter.com/7TRt8QvQru

— Maryland Lottery (@MDLottery) July 6, 2021
Winners have 182 days after a drawing to claim their prize. Players may scan their tickets at any lottery retailer or with the lottery's mobile app to determine if they have a winning ticket. Lottery officials encourage the winner to sign the back of the ticket and keep it in a safe location.
The winner can claim the prize by mail, in person by appointment or by dropping off the completed claim form and winning ticket at Maryland Lottery headquarters in Baltimore. More information on claiming prizes is available on the Maryland Lottery's website.