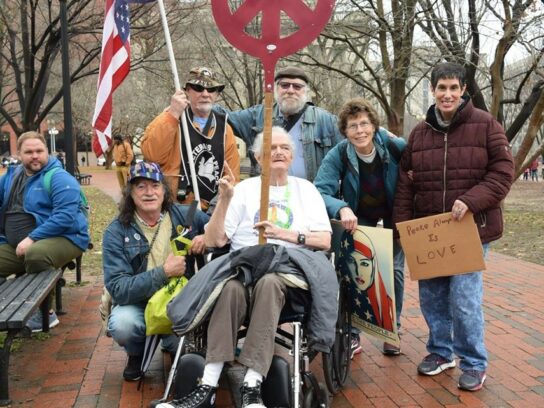 Takoma Park's unofficial peace ambassador, Pat Loveless, passed away at the age of 64 on March 20.
In May of 2010, Takoma Park City Council adopted a resolution declaring Loveless the "Takoma Park Peace Delegate."
"He was very active in protests, civil rights. He was opposed to the death penalty," said Takoma Park Council member Terry Seamens, who often drive Loveless to and from council meetings.
Loveless used a wheelchair and was on oxygen. He was blind and only had one finger and a thumb on each hand, Seamens said.
Yet, Loveless attended almost every council meeting for the past 17 years and numerous area protests. He got rides due to his persistence, Seamens. "He was very intelligent and outspoken."
"We have lost a completely righteous man," U.S. Rep. Jamie Raskin posted on Facebook.
Raskin described Loveless as an "irrepressible champion for the poor, unstoppable enemy of capital punishment, anti-war fire brand and Takoma Park's official Peace Ambassador."
Seth Grimes, a former Takoma Park council member, said Grimes always "showed up and was upbeat" despite his physical ailments.
"There is no one more dedicated to civic life in Takoma Park," he said. "He was a joy to be around."
Loveless was born in Massachusetts, where his sister still lives. His body is being sent to her, Seamens said.
He moved to Takoma Park in 1996 and often could be seen carrying a large wooden peace sign.
"Pat was an incredible activist for peace and social justice," Maryland Del. Lorig Charkoudian (D-20) wrote in an email.
She met him in the late 1990s in front of the U.S. Supreme Court "where we were both attending the Fast and Vigil against the death penalty. We often found ourselves together at many anti-death penalty events, including a march from Baltimore to Annapolis," she wrote
"Despite Pat's many health challenges, he continued to show up and fight to build a better world, with the justice he believed was possible deep in his soul. He will be missed, but his spirt continues to be felt," Charkoudian wrote.
According to Raskin, Loveless came to Maryland via the South, "where he clashed with the KKK in the 1980s lost his sight after the Klan savagely attacked him. Blind, wheelchair-bound and afflicted by diabetes and other ailments, Patty never stopped fighting for justice."
Loveless, who campaigned for Raskin, "was a gentle spirit, always kind to my kids, who loved him as kids will always love a person with a good heart and enthusiasm for life," Raskin posted on Facebook.