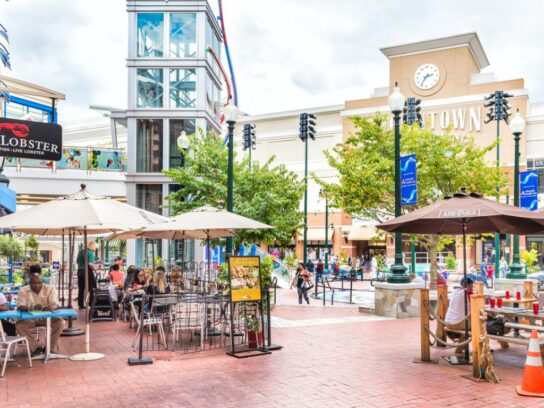 The 11th annual "Taste the World in Fenton Village" celebration will spotlight the diverse selection of restaurants of Downtown Silver Spring with an in-person, week-long event taking place Sunday, May 16 through Saturday, May 22.
The event will include locally and independently owned restaurants located mainly in the southern section of Downtown Silver Spring, consisting of a wide range of dining cuisines including Burmese, Cuban, Ethiopian, Greek, Thai, traditional American and more.
According to a press release, COVID-19 limited last year's celebration in Spring 2020, with the approximately 50 participating restaurants severely impacted by the health crisis. This year's event is coming back in a big way where those who come to support these restaurants will have the opportunity to win prizes up to $500. Patrons purchasing food from any of the participating locations during the week can send in pictures of a minimum of three receipts to fentonvillageinc@gmail.com for the chance to win.
"Foodies from around the region recognize the incredible diversity of culinary delights that exist in Montgomery County, and Taste the World in Fenton Village allows diners to experience a world of tastes in one place," said County Executive Marc Elrich. "Our restaurants have been great partners throughout the COVID-19 pandemic to ensure the safety of their patrons and help keep our COVID case rate among the lowest in the State. As we turn the page and recover from the economic impacts of the pandemic, we need to support them. Participating—while following COVID safe protocols and guidance—in the Taste the World event is an important step."
Fenton Village can be found a block away from the core of Downtown Silver Spring. Fenton Village advises that participating restaurants can be found in the area "bounded approximately by Wayne Avenue to the North, Sligo Avenue to the South, Georgia Avenue to the West, and Fenton Street to the East." More information on the event can be found on the Fenton Village website.
Taste the World in Fenton Village
May 16-22, 2021

A week-long culinary festival featuring delicious meals from a variety of cultural traditions. Patrons who purchase food (dine-in or carryout) at 3 restaurants during the week can enter to win cash prizes of $500, $250, $100. pic.twitter.com/mKJAulHM82

— Fenton Village (@FentonVillage) April 10, 2021