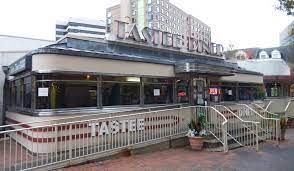 Tastee Diner in Silver Spring will close permanently on Wednesday.
An employee at the iconic diner located at 8601 Cameron Street in Downtown Silver Spring told myMCM that they were told of the closure Wednesday morning with no explanation given.
This comes as a surprise. I feel for the owners who feel they have to close and the employees who worked at Tastee Diner. I wish them the best. We'll miss our Downtown Silver Spring institution. https://t.co/ygVGyaV9XH

— County Exec Marc Elrich (@MontCoExec) March 22, 2023
And that's a wrap for Tastee Diner in Silver Spring! The Bethesda location is still open pic.twitter.com/FmBz5z8CND

— Cheyenne Corin ✨ (@CheyenneCorin) March 22, 2023
Source of the Spring initially reported the story.
Tastee Diner opened in Silver Spring in 1935. It was made a historic landmark in Montgomery County in 1994.
A second location in Bethesda opened in 1939. The Tastee Diner in Laurel opened in 1951. Both are still open.
(Photo courtesy Diner Hunter)