TEDxGaithersburg's inaugural event takes place on Sunday, Nov. 13 from 10 a.m. to 3 p.m. at Montgomery Community Media's TV studio in Rockville.
TED is a nonprofit organization dedicated to spreading ideas in the form of short, powerful talks. TED started as a four-day conference in California in 1984 where Technology, Entertainment and Design converged. Currently, TED hosts two annual conferences that cover almost all topics in more than 100 languages. Leading thinkers speak for 18 minutes or less. Many of the talks from the conferences are available at TED.com. Over the years, speakers at TED events have included Bill Gates, Jane Goodall, Elizabeth Gilbert, Sir Richard Branson, Nandan Nilekani, Philippe Starck, Ngozi Okonjo-Iweala, Sal Khan and Daniel Kahneman.
TEDx is a program developed by TED to create local, self-organized events that bring people together for a TED-like experience. At a TEDx event, video and live speakers combine to explore a particular topic.TEDxGaithersburg's theme is "ideas that write the future, ideas that right the future."
Sunday's event includes 10 speakers who explore topics like:
Navigating the transgender, nonbinary experience
Examines how museums can reconcile their colonial pasts
The necessity of inculcating an inclusive mindset
Using a trauma-informed perspective to enhance Diversity, Equity, and Inclusion (DEI) in the workplace consulting
Examines restorative justice approaches that build community in classrooms
The speakers at Sunday's event feature: Adriana Rojas, David Fakunle, Finn Coy-Gresavage, Gina Rupert, Matthew Ratz, Nicole Kenney, Omar Eaton-Martinez, Paul McFadden, Pooja Chawla, and Robin McNair.
More information on the speakers and the schedule of events on Sunday may be found on the TEDXGaithersburg website or in the event flyer.
Tickets are available at eventbrite.com.
Montgomery Community Media is located at 7548 Standish Place in Derwood.
---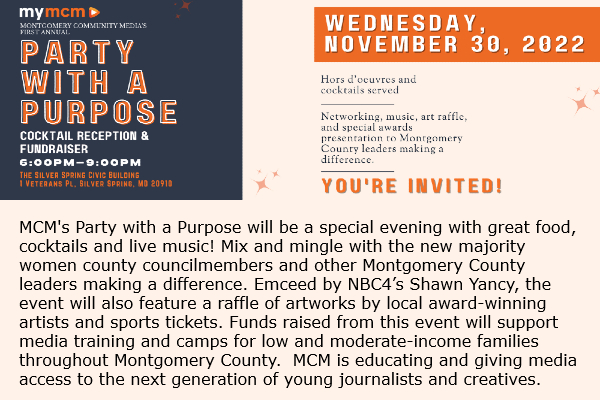 ---