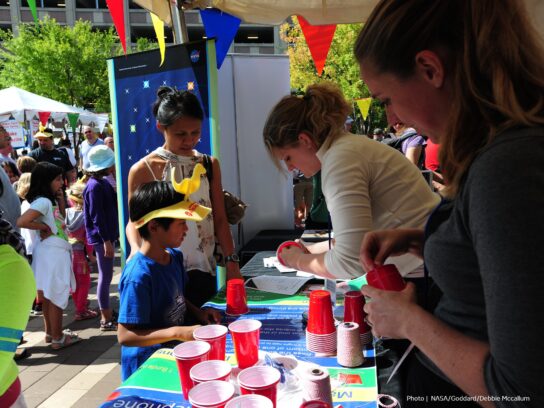 FutureFest comes to the Silver Spring Civic Building this Sunday. Here are 10 things to know about the family festival.
1. What is FutureFest?
FutureFest is one of the DC region's largest family festivals where kids can spark their imagination and families can celebrate their collective power to invent the future. FutureFest, presented by KID Museum in partnership with Montgomery County and Fund for Montgomery, is combining the popular World of Montgomery Festival and Maker Faire Silver Spring.
2. When is FutureFest?
FutureFest will take place on Sunday, Sept. 15 from noon to 5 p.m. The event will be held at the Silver Spring Civic Building and Veterans Plaza located at Fenton Street and Ellsworth Drive in the heart of downtown Silver Spring.
3. What Activities Focus on Innovation?
Kid City: Check out KID Museum's interactive experience where kids and families will build a city of the future from the ground up, including:
Ribbon Pavilion – Dive into this playful and immersive sensory experience.
Light-Up Lane – Grow a spinning, mirrored, black light garden that really dazzles!
Fabrication Station – Build a prototype city using 3D-printed parts.
Textile Trees – Weave a magical forest of patterned trees.
Woodley Way – Use real tools to construct a house made of wood.
Sensor Street – Stomp, wave, or touch to light up this high-tech street.
Maker Highway – Experiment with designing cars, then use our track to watch them go!
Pepco Place – Smart streetlight, smart traffic cones, electric vehicles and more.
Cardboard Court – Engineer a kid-designed cardboard structure using geometric shapes.
Origami Alley – Experiment with an innovative engineering technique that uses a centuries-old art form. Brought to you by the Engineering Lab at Georgia Tech.
Innovation Expo: Discover technologies and innovations that are transforming our world and inspiring the next generation of innovators. Glimpse the future of Work and Play, Space and Exploration, Food and Sustainability, and more.
4. What Activities Focus on Cultural Arts?
Cultural Crossroads: Explore cultures that shape our community – from China, El Salvador, Ethiopia, India, Korea and beyond-through hands-on, creative activities, music and dance:
China – Dress yourself in the elaborately embroidered fabrics of a Chinese wedding celebration and take your photo, decorate a traditional denglong or tiāndēng (sky lantern) with your written wishes to send to the deity, write your name in calligraphy on a Chinese fan, make a traditional toy jian zi out of 'chicken feathers', and get close-up to a Chinese dragon and panda.
El Salvador –Try your hand at weaving traditional El Salvadoran hammocks, get creative with the art of Fernando Llort creating a community mosaic based on his designs, make your own grain mosaic to take home, and explore the cultural artifacts and traditional dress of El Salvador.
Ethiopia – Play Ethiopian children's games of Gebeta (mancala) and segno-macsegno (hop scotch). Paint in the style of traditional Ethiopian art based on Orthodox church designs. Pull raw cotton into thread, experience a traditional coffee ceremony, weave on a loom, or write your name in Amharic. See beautiful jewelry, artifacts, and clothes from Ethiopia.
India – From cricket to coding, experience the most popular sport of India and play a popular game based on computer coding. Have your hand painted in the traditional art of henna, dress in a dupatta (scarf), and try on a bindi. The India tent features beautiful textiles and hands-on seed crafts and activities.
South Korea – Create a bangpae yeon kite, fold jeong-I jjeobgi origami art, play jegi chagi (Korean hackysack) or toho throw (arrow toss), immerse yourself in Korean culture and try your hand at Korean flower arranging.
5. How do I get to the festival?
Here are some of the best options to get to Veterans Plaza:
Walking – If you live within a couple of miles, walking is a good option. More than 50,000 people live within walking distance of Veterans Plaza.
Bus – WMATA or Ride-On bus have multiple options.
Metro Red Line – is three blocks away.
Ride Share – Lyft, Uber, or similar can drop you at the parking lot at the southeast corner of Colesville and Georgia. The walkway through Ellsworth Pedestrian mall provides access to Veterans Plaza.
Bicycle – There are plenty of bike racks throughout downtown. It is best to leave the bikes a couple of blocks from Veterans Plaza.
If you must drive – parking is available in one of the free parking garages in the periphery of the core of downtown on Cameron Street, Thayer Ave. and Dixon Ave.
6. Will there be street closures?
Yes, road closures include:
Fenton Street between Colesville Road and Wayne Ave.
Ellsworth between Georgia Ave. and Cedar Street (the garage is accessible).
Veterans Place and Roeder Road.
7. What happens if there is inclement weather?
FutureFest occurs rain or shine. It is indoors and outdoors.
8. Are there restrooms?
Restrooms are available inside the building straight back from the main entrance and port-a-johns are located on Veterans Plaza behind the building.
9. What about food and drink?
Restaurants in the downtown, surround the Plaza and can be found at Silverspringdowntown.com. Water is for sale at the information tents on either end of the festival for $1.
10. Is there anything else I should know about the festival?
Strollers are allowed. Alcohol is not sold nor permitted at the festival and no glass bottles. Please leave your coolers and four-legged friends at home (except for service animals).
There are still volunteer opportunities by signing up, here.
More festival information is available at the KIDMuseum and Discover Silver Spring websites.