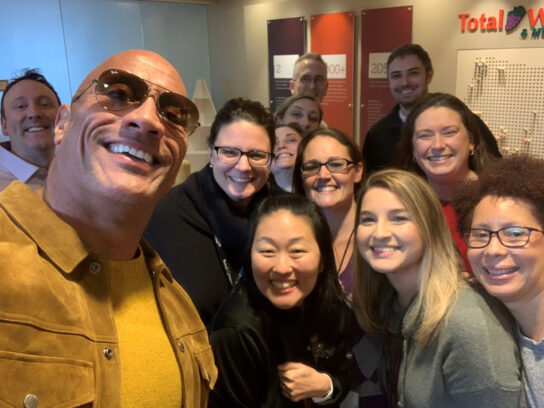 Did you smell what "The Rock" was cooking in Bethesda on Friday? Probably not, but you soon might taste what he's distilled.
The answer is tequila. Dwayne "The Rock" Johnson was in Bethesda Friday promoting his upcoming launch of Terremana Tequila at the headquarters of Total Wine & More.
Total Wine & More shared a photo of The Rock and its spirit buyers on social media and noted that Terremana will hit stores in March.
Had a special surprise visit from @TheRock today to talk with our spirit buyers about his upcoming #TeremanaTequila launch. 😱😱😱

We can't wait for Teremana to arrive in our stores! You're going to love it. Should be hitting stores in March, so look for updates then! pic.twitter.com/PiPM5zO11B

— Total Wine (@TotalWine) January 10, 2020
The Rock's visit was kept a secret until Friday. Total Wine employees were told that a celebrity was coming to visit that day, but only those involved in organizing the meeting knew it was The Rock.
Here's a look at The Rock leaving Total Wine & More headquarters. The video is courtesy of Robert Snip.