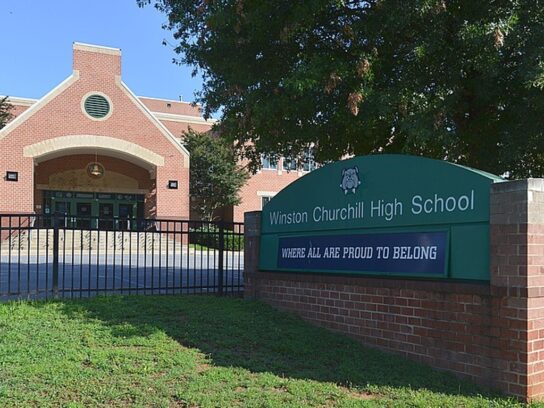 Threats made on social media to Winston Churchill High School in Potomac have been classified a bullying campaign, an investigation by Montgomery County Police Department found.
MCPD tweeted the night of May 29 that Montgomery County Public Schools was working closely with the department after being made aware of social media threats made towards the high school. MCPD determined the threats were non-credible, and had additional security posted at the school on May 31 in an effort to reassure the community.
In an email sent out to Churchill families and the community, Principal John Taylor stated the student who owns the social media account the threats were issued from had no involvement in the posts. MCPD's investigation revealed the threats were designed as a plan to bring public outrage and school disciplinary actions upon the student as a form of bullying.
Taylor ensured the threats were only issued as an effort to bully the student, and have no credibility in posing a security risk to the school or the community.
The principal wrote in the email:
"We understand that for many students this was still an upsetting and disturbing series of events, following so closely our recent national tragedy in Texas. Our counseling services team stands ready to provide ongoing support to our students and community as we return to normal operations. The staff of Winston Churchill High School will remain vigilant and continue to employ all of the safety and security measures we have in place to ensure a safe learning environment for all students."
The high school intends on following up with the student to ensure no additional acts of bullying or inappropriate behaviors take place. Taylor further said the school will determine consequences for these disruptive actions.