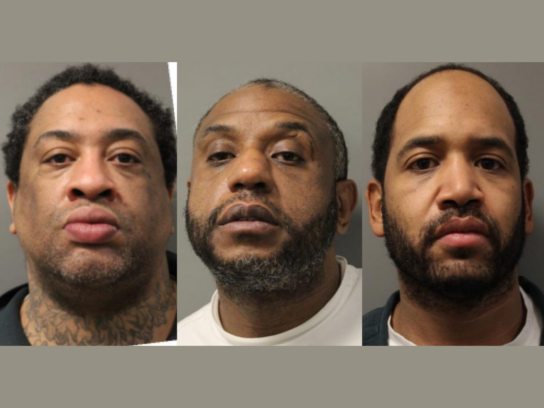 Three men were charged in connection to a September 2020 homicide in Montgomery Village, according to county police.
Anthony Thompson, a 45-year-old of an unconfirmed address, was arrested and charged for first-degree murder and conspiracy to commit armed robbery.
Trireese Chance, 39, of Burkesville, Virginia, was charged with being an accessory after the fact to the murder, police said. Larry Donnell Armwood, a 45-year-old from Germantown, was charged with armed robbery and conspiracy to commit armed robbery.
Around 5:49 a.m. on Sept. 6, an officer found 37-year-old Mark Earl Leonard Webb lying face down in an apartment complex parking lot in the 9300 block of Willow Creek Drive. Webb appeared to be suffering from a gunshot wound and was declared dead at the scene, according to police.
Detectives learned that Thompson and Webb knew each other. They also determined during their investigation that Armwood was present during the murder and stole property from Webb. Chance accompanied Thompson when he disposed of the handgun, detectives found.
Armwood was arrested March 16 and is being held without bond.
Thompson was already incarcerated at the Montgomery County Detention Center on unrelated charges and was served with an arrest warrant charging him with Webb's murder, police said. Chance was in a Virginia jail on unrelated charges and served with a Montgomery County arrest warrant for his involvement in the homicide.