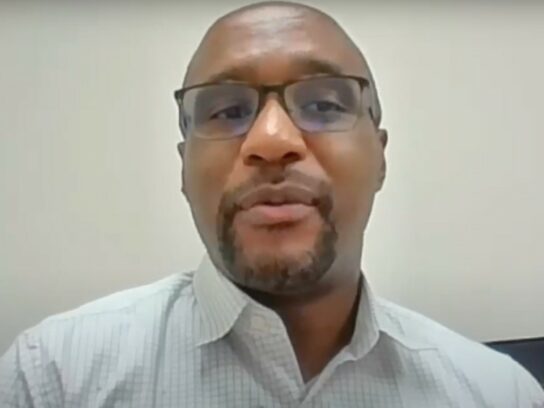 During daily meetings with government officials, weekly meetings with the press and constant emails and calls concerning the health of Montgomery County, Dr. Travis Gayles kept his composure.
Despite lawsuits, public scorn, protests from private school families and barbs delivered by Gov. Larry Hogan, at least on the outside, nothing seemed to ruffle Gayles, who has resigned his position as Montgomery County Health Officer and Chief of Public Health Services effective Sept. 12.
During the pandemic, he often was the point person as people's fears and frustrations grew. Whether it was concern the county did not have enough personal protective equipment (PPE), a mass vaccination site or enough vaccines. Gayles was the face of the county to both those who wanted businesses and schools shuttered immediately as well as those who thought everyone was overreacting.
Gayles loomed large and was featured on television's 60 Minutes and other national news programs. He was sued by several private schools who questioned his role in their opening plans, asking who elected him.
And through it all, Gayles dealt with what he referred to as derogatory and racist emails, several that he forwarded to the police. He previously told MyMCM that he never gave out personal information including his age and the town he lived in due to the hate he encountered.
He called the messages "troubling." Some of those messages questioned his education and knowledge, despite Gayles' bachelor's degree in public policy studies and African American Studies at Duke University and his PhD in community health and a medical degree from the University of Illinois, Urbana-Champaign. He went on to complete his residency in pediatrics at Northwestern University in Chicago and earned a National Institutes of Health fellowship in academic pediatrics.
During a virtual discussion with former Montgomery College President Dr. DeRionne Pollard, Gayles explained how being a person of color weighed on him at all times. "I think of examples when I go into meetings, I am not only having to be present to talk about the business at hand, but I also am very careful to monitor my body language, my tone," he said.  "Because I am recognizing I am under a microscope and don't want to be perceived as angry, or hostile or arrogant based upon the comments in terms of how people perceive me and how they view me."
Gayles has been the county's health officer since September of 2017. In that position, he oversees all federal, state and locally funded public health services. He heads a county program to get more residents tested for HIV and actively stresses good health practices in communities of color.
Councilmember Nancy Navarro tweeted that "He leaves our county better than he met it, and we all owe him a debt of gratitude for his service." She praised his leadership, noting, "I had grown to admire and appreciate his science-based approach to tackling the pandemic, and his commitment to racial equity and social justice in the service of our diverse communities."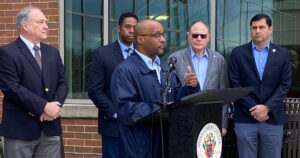 Councilmember Will Jawando tweeted, "Dr. Gayle's is a major reason for our success in having the highest vaccination rate of any large county in the nation. His commitment to public health measures, in the face of adversity, & his commitment to equity have been invaluable. He will be missed."
But not everyone was a fan. Prior to the opening of the 2020-2021 school year, Gayles directed nonpublic schools in the county to remain closed to in-person instruction until at least Oct. 1. That soon prompted a lawsuit, but before its court date, that directive was rescinded.
An avid tennis player, Gayles preached and practiced the importance of taking time everyday to take care of yourself by exercising to stay healthy and reduce stress. He has not announced his future plans.
Dr. Raymond Crowel, director of the county's Department of Health and Human Services, has been charged with immediately working with the Maryland Department of Health to find Gayles' replacement. His position is a dual appointment with Maryland and Montgomery County so the state has to agree with the county's choice before presenting the candidate to the county council.
He leaves our county better than he met it, and we all owe him a debt of gratitude for his service.

— Nancy Navarro (@nancy_navarro) August 18, 2021
Related posts
Dr. Travis Gayles Looks Back at Pandemic Response: 'This Is What We Are Trained For'
MyMCM Honors County's First Responders for Heroic Work Throughout Pandemic