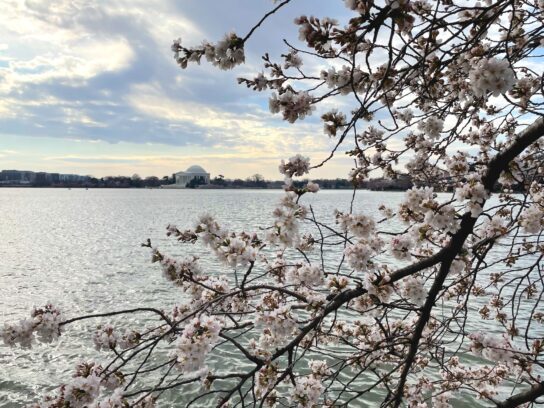 The National Park Service predicted peak bloom for the Tidal Basin cherry trees—when 70% of the flower buds at the Tidal Basin blossom—to be March 22-25. The recent warm weather apparently coaxed the trees to reach peak bloom a day early on Monday.
If you are planning to visit the Tidal Basin this year to see the cherry trees, the park service encourages visitors to use the National Park Service App, which is available for all smart phones. The steps to download and use the app are:
Download the National Park Service App.
Go to the "National Mall and Memorial Parks" page in the app.
Click the "Self-Guided Tours" button.
Choose the "Cherry Blossom Walking Tour" button.
Parking is limited, so organizers suggest using Metro.
PEAK BLOOM! PEAK BLOOM! PEAK BLOOM! PEAK BLOOM! PEAK BLOOM! PEAK BLOOM! PEAK BLOOM! PEAK BLOOM! PEAK BLOOM! PEAK BLOOM!
🌸🌸🌸🌸🌸🌸!
Learn more & plan your visit: https://t.co/h04Gu0ksc1 #CherryBlossom #BloomWatch #WashingtonDC pic.twitter.com/DzRjKUR5tI

— National Mall NPS (@NationalMallNPS) March 21, 2022
The National Cherry Blossom Festival opened Sunday, March 20 and continues through April 17. More than 40 events are planned during the festival. For a complete list, visit the National Cherry Blossom Festival web page.
Blossom Kite Festival – March 26 (Free)
The kite festival will be held at the Washington Monument grounds and in neighborhood parks across the D.C. area. The Blossom Kite Festival includes competitive battle and tricks competitions, and the opportunity for visitors to bring their own kites.
Find more information here.
National Cherry Blossom Festival Parade – April 9  (Standing room is free; stadium seating requires tickets.)
The parade runs along Constitution Avenue between 7th and 17th Streets and features performers, marching bands, giant balloons, and floats.
Find more information about the parade and tickets for stadium seating here.
PetalPalooza – April 16 (Free)
This event will be hosted at the Capitol Riverfront at the Yards. The festival includes a full day of live music and activities for the whole family along the banks of the Anacostia River. A fireworks show is scheduled to start at 8:30 p.m.
Find more information about PetalPalooza here.
More events may be found on the National Cherry Blossom Festival website.
Related Posts:
Montgomery County Offers Great Non-DC Cherry Blossom Viewing Options