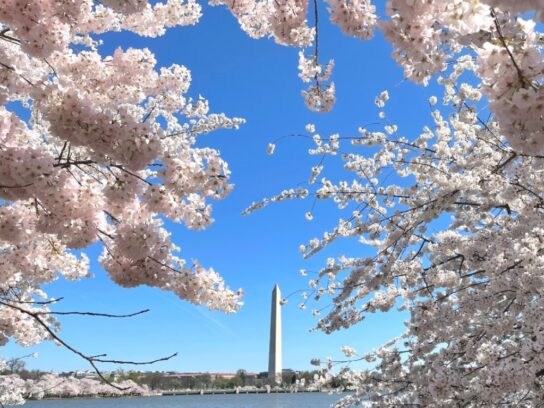 The peak 2022 bloom dates for the Tidal Basin cherry blossoms are predicted to be March 22-25, according to the National Park Service.
Peak bloom occurs when at least 70% of the famed pink and white Yoshino cherry blossoms are open. The dates for peak bloom change each year, depending on the weather conditions. Peak bloom has occurred in the past as early as March 15 (1990), and as late as April 18 (1958).
In November 2021, it was announced that the annual National Cherry Blossom Festival for 2022 would be held in person, after the previous year's festival pivoted to virtual and distanced attendance just six months out due to concerns surrounding COVID-19. The 2020 festival was also canceled due to the pandemic.
The 2022 festival, which will be the 110th anniversary of the gift of the trees from the Mayor of Tokyo, is set to run from March 20 through April 17. A list of events can be found online, showcasing the music, food, and activities planned for residents and tourists alike to rediscover spring.
BIG NEWS: We're projecting cherry blossom peak bloom to fall between March 22 – 25 this year! Learn more about this delightful springtime tradition at https://t.co/h04Gu0ksc1
🌸🌸🌸 #Cherryblossom #BloomWatch #WashingtonDC pic.twitter.com/GSEAutCcIE

— National Mall NPS (@NationalMallNPS) March 1, 2022