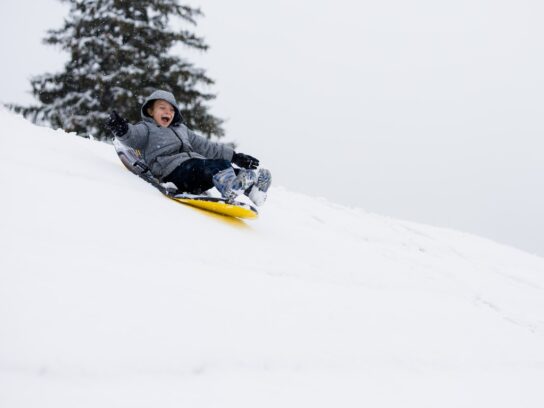 The first snowstorm of 2022 – and the biggest in the area since 2019 – left many hills blanketed with snow making it tempting for sledders, but it's important to know how to sled safely first.
Montgomery County Fire and Rescue Services (MCFRS) shared a list of tips to avoid landing in the emergency room.
Sledding Safety @MontgomeryCoMD Be Aware, Be Informed, Be Prepared https://t.co/snxW17RJHU pic.twitter.com/0OnFq8f76R

— Pete Piringer (@mcfrsPIO) January 4, 2022
How to choose a hill to sled on:
Find a hill that is not too steep and has a long flat area at the bottom to glide to a stop.
Avoid hillsides that end near a street or parking lot.
Make sure the bottom of any sledding hill is far from streets, traffic and frozen or partially frozen ponds, lakes or creeks.
Avoid hillsides that end near ponds, trees, fences, or other hazards.
Make sure the hill is free of obstacles such as jumps, bumps, rocks, poles, or trees.
Choose hills that are snowy rather than icy to avoid hard landings that can cause injury.
Always sled during the daytime.
How to choose a sled:
Use equipment that is sturdy and avoid anything with sharp and jagged edges.
Look for energy-absorbing pads on sled seats.
Examine handholds on sleds to be sure they are secure.
Ensure sleds and toboggans have steering devices that work easily and don't jam.
Only sled feet first while sitting up to avoid any head injuries.
Sledders of ages 12 and under should wear a helmet, especially ones designed for winter sports if possible.
Never ride in a sled pulled by a motorized vehicle.
Now put these tips to use by checking out a list of the best sledding hills recommended by Montgomery Parks.
Where to sled:
Avenel Local Park
Ayrlawn Local Park
Damascus Recreational Park (hillside near tennis court parking lot on Kings Valley Road)
Hillmead Neighborhood Park
Long Branch-Wayne Local Park (off of University Blvd.)
Norwood Local Park
Pilgrim Hills Local Park
South Germantown Recreational Park (hill behind Field F and hillside between Mooseum and TennisPlex)
Stratton Local Park
Tilden Woods Local Park
Woodacre's Local Park
"We want residents to enjoy our parks year-round, in all weather, and snow provides another opportunity for fun outdoor recreation," said Mike Riley, Director of Montgomery Parks in a press release. "We encourage everyone to be safe and use caution while sledding because snow can hide rocks, limbs, and other hazards."